How America's Economic Restart is Going so Far
---
Optimism about restarting America's economy and a faster than expected development of a vaccine have helped power the stock market up and impressive 32% over the last six weeks.
S&P 500 and Dividend Kings Phoenix Portfolio Companies Since March 23rd
(Source: Ycharts)
Some blue chip growth stocks, such as what Dividend Kings' Phoenix portfolio bought in early March, have achieved far more impressive returns.
But of course, there is a big difference between optimism about how the economic restart could go, and how it turns out in reality. Which has important implications for whether or not this red hot rally can continue in the coming weeks and months.
So let's take a look at the initial data, to see whether or not the economic restart is going as well as the market hopes, and whether there is any indications of the dreaded and much-feared "second wave" of the virus.
June 8th Is When All States Plan To Be In Phase 1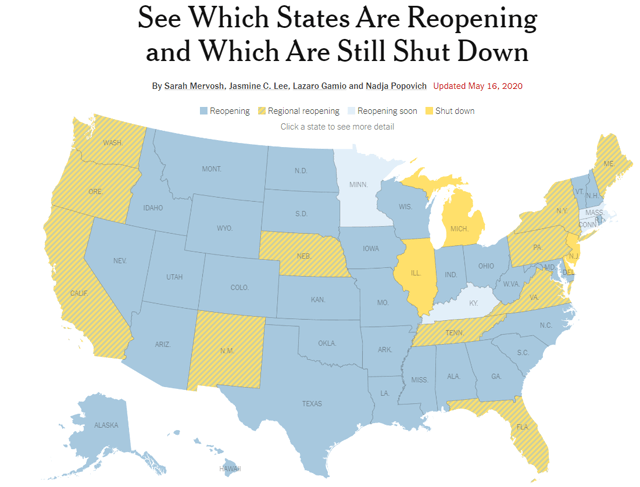 (Source: New York Times)
Already all states except for five have lifted their stay at home orders and at least partially restarted their economies.
DE stay at home order expires May 31st
DC lockdown order expires June 8th
MI order expires May 28th
NJ expires June 5th
IL expires May 31st
PR expires May 25th
The rest plan to enter phase one by June 8th or earlier.
Within three weeks the US will be on the road to recovery, or so the stock market rally implies.
The big question is, can we safely restart the economy without triggering a big spike in new cases and more lockdowns?
If some areas, cities, states or what-have-you, jump over those various checkpoints and prematurely open up without having the capability of being able to respond effectively and efficiently, my concern is that we will start to see little spikes that might turn into outbreaks," said Fauci, director of the National Institutes of Allergy and Infectious Diseases.

"I have been very clear in my message — to try, to the best extent possible, to go by the guidelines, which have been very well thought-out and very well-delineated." – Washington Post
The leading pandemic expert, Dr. Anthony Fauci, who Google Scholar reports as the 3rd most cited epidemiologist in history, says that states going too early is a major risk that could backfire economically (plus cost lives).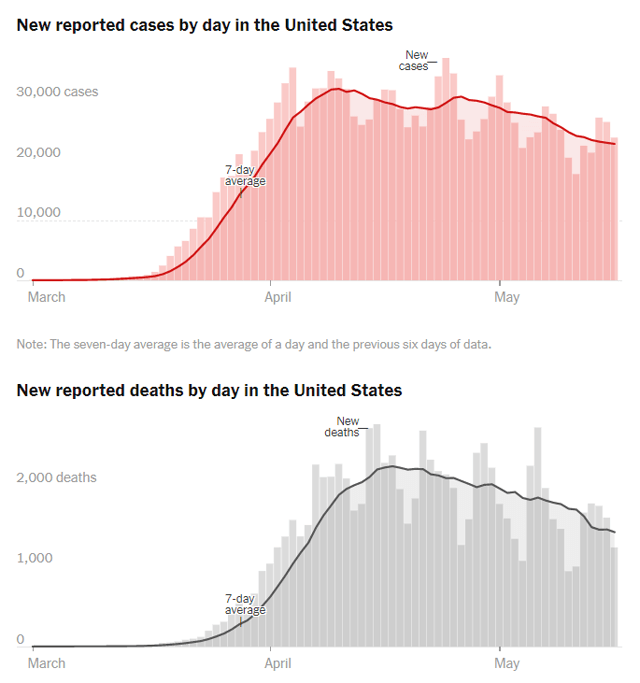 (Source: New York Times)
Thus far, we haven't seen a big spike in cases at the national level, despite US testing ramping up aggressively in recent weeks.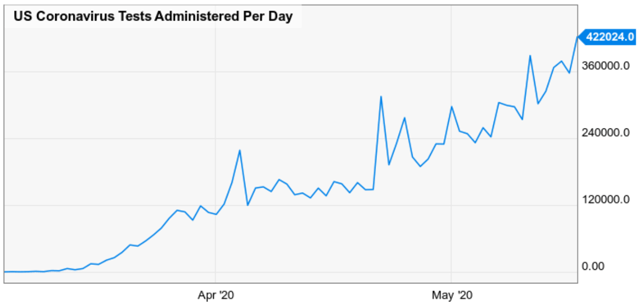 (Source: Ycharts)
What about at the state level?

(Source: New York Times)
Eight states have seen a spike in daily new cases, and all of them restarted earlier than guidelines said was safe.
However, while that's certainly worth watching, it's important to note that 30 states have stable cases, and the rest have declining cases.
Effective Transmission Rate By State: May 17th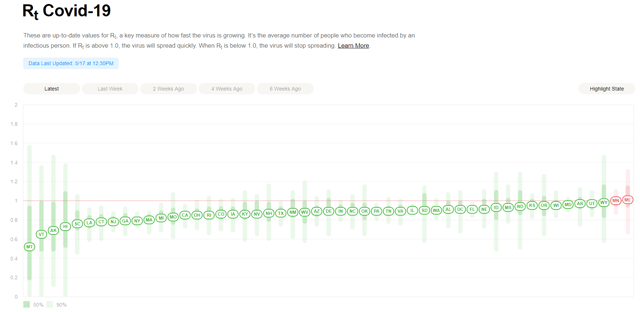 (Source: Rt.live)
In fact, despite opening earlier than many experts said was prudent, the effective transmission rate in all but two states is now below 1.0, meaning the virus is gradually burning itself out.
While it's certainly true that lifting social distancing restrictions has widened the error bars on those Rt estimates, so far the daily case data is indicating no second wave has begun so far.
But just because the virus hasn't started a resurgence doesn't mean we're out of the economic woods yet.
After all, most Americans say they don't feel it's safe to reopen yet.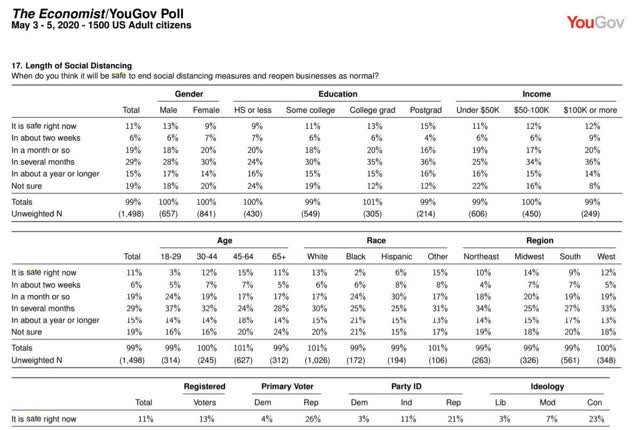 (Source: Economist/Yougov)
In fact, about 65% of people say it won't be safe to do so for several months.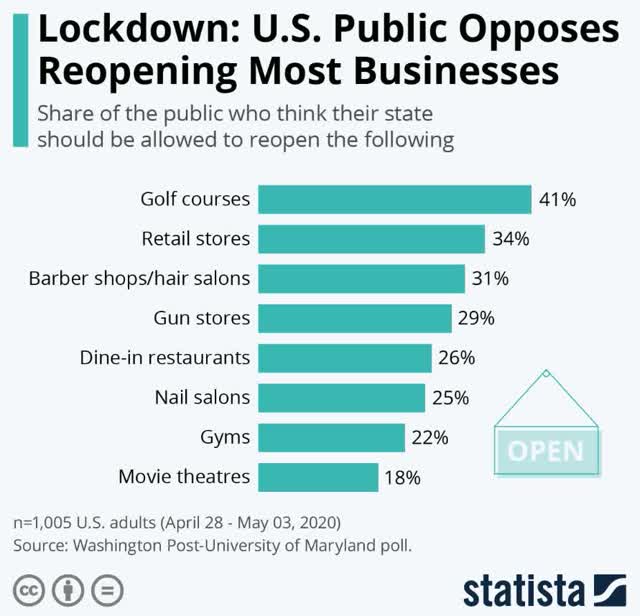 What's more, Americans are telling posters that they don't feel safe going shopping. 44% feel uncomfortable grocery shopping, 67% don't want to go to a clothing store, and up to 82% say that movie theaters are a bad idea right now.
So perhaps the reason the virus hasn't been surging post restarts is that Americans are just staying home, despite businesses being reopened and government lockdown orders being lifted?