How to Protect Your Retirement Portfolio From the Coming Market Decline
---
It seems like the stock market is made of Teflon doesn't it?
S&P & Top Performing Phoenix Portfolio Holdings Since March 23rd Lows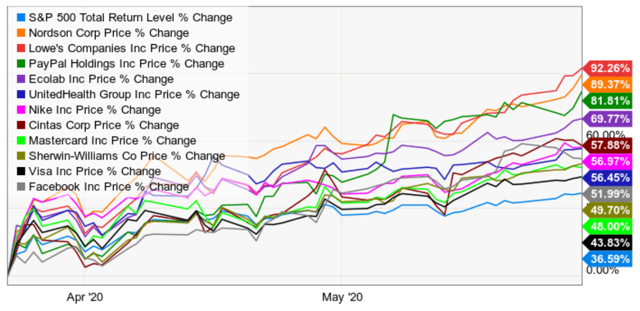 (Source: Ycharts)
From the bear market lows, the S&P 500 and other popular growth stocks, such as what the Dividend Kings' Phoenix portfolio bought in late March, have been on an absolute tear.
Some analysts have dubbed this the "hopium" rally, and I tend to concur that the market has priced in the good news surrounding economic reopenings, and then some.
However, I'm not a market timer, and there are good reasons that the market's meltup TINA/FOMO/QE Liquidity rally might keep rolling at least for the next few weeks, or potentially even months.
In this two-part series, I'll first walk you through the reasons why the market may keep levitating higher, but why a painful decline is almost certainly inevitable.
I'll then provide reasonable and prudent guidelines for how you can spare your retirement portfolio unnecessary pain and realized losses when the music finally stops and the market inevitably succumbs to gravity.
Why Stocks Could Go As Much As 8% Higher From Here…
On March 19th,  Barry Bannister and his team at Stifel declared the market oversold and predicted a recovery rally to 2,750 on the S&P 500.
Well, Stifel recently declared that rising optimism about economic reopenings and record low-interest rates and historic levels of Fed liquidity injections could drive higher multiples through August.
Specifically, Stifel thinks stocks might climb as high as 3,250 or 3,300 by the end of Summer, as the market ignores the horrific earnings declines of 20202 to focus on the strong expected recoveries in corporate fundamentals in 2021 and 2022.
I've already covered how America's economic reopening is going so far and more recent data confirms that an "L-shaped" depression isn't likely.
Goldman Sachs has also recently declared that it no longer believes a downturn could see stocks break below 2,750, meaning that even a correction from the market's 3,040 Friday close is unlikely.
And JPMorgan also recently penned a note outlining several reasons it believes stocks could have further to run.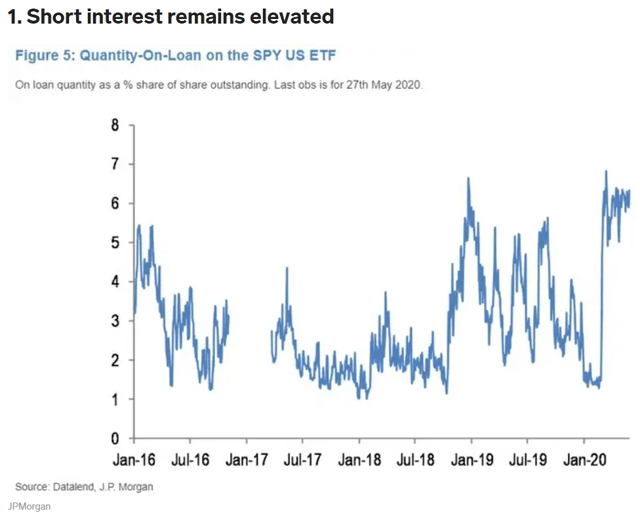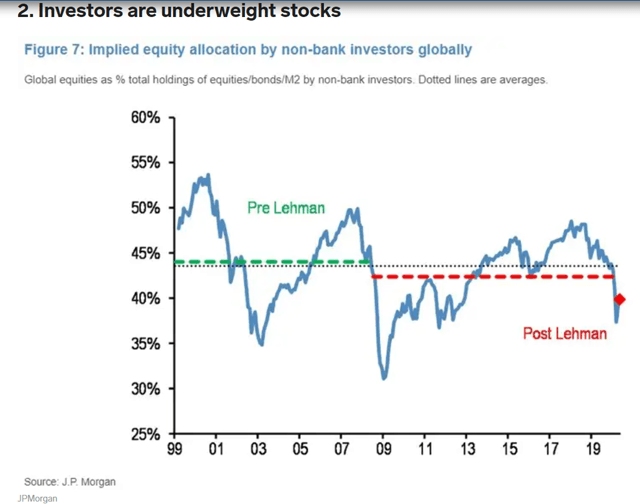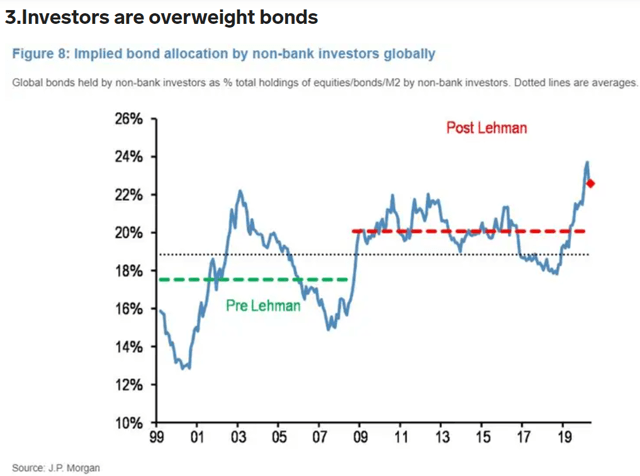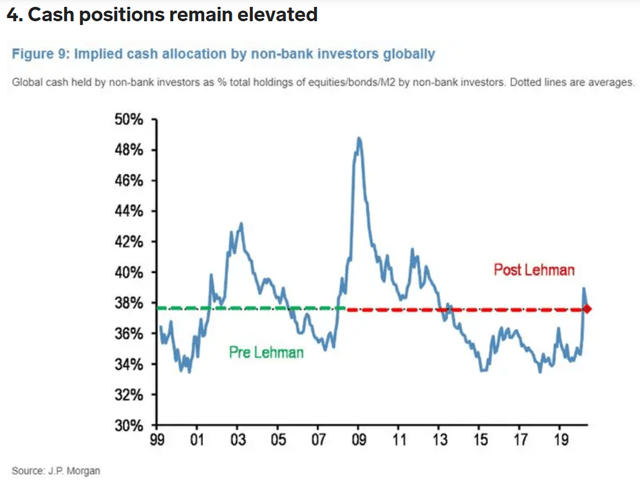 The bank said given cash yields are zero across the board for the foreseeable future, "it remains reasonable to expect this cash allocation to decline further over the medium to longer term." – Business Insider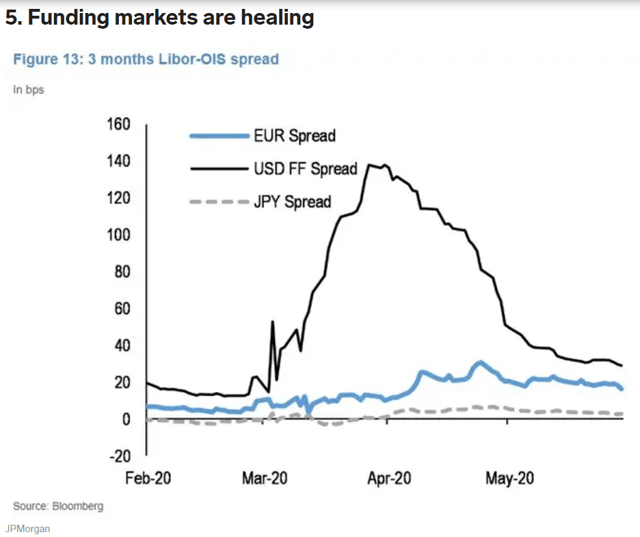 Now I will grant that Stifel, Goldman, and JPMorgan all make valid points, especially in regards to two factors in particular.
First, the levels of financial stress we're seeing now have fallen to the average level seen since 1993, at least as measured by the St. Louis Fed Financial Stress Index.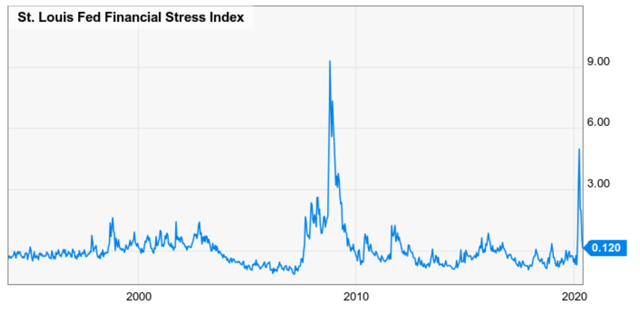 (Source: Ycharts)
Despite the worst recession in 75 years raging all around us, the Fed's $3+ trillion in liquidity injections (with another $3 to $4 trillion expected by the time this crisis is over) has caused corporate credit markets to become exceptionally liquid.
What about the TINA or "there is no alternative" concept that has long been heralded as the reason that "this time is different" and low-interest rates mean permanently higher stock multiples might last indefinitely?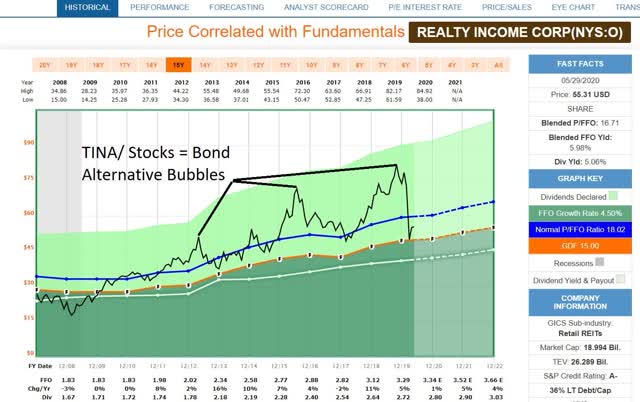 (Source: F.A.S.T Graphs, FactSet Research)– Realty Income is fairly valued at 18 to 19 FFO, not opinion, but objective market fact.
Such has been the rallying cry of REIT investors for much the past decade, for blue chip favorites like Realty Income, whenever its P/FFO ratio surpassed 20.
Is there some truth to the idea that low rates forever MIGHT allow stock multiples to expand permanently or even keep rising for several more years?
In the shocking truth about interest rates, I pointed out two surprising facts that seem to justify this "stocks can go up forever" idea that is so popular these days.
The first surprising fact is that the long-term secular trend in interest rates is negative, and has been for about 700 years.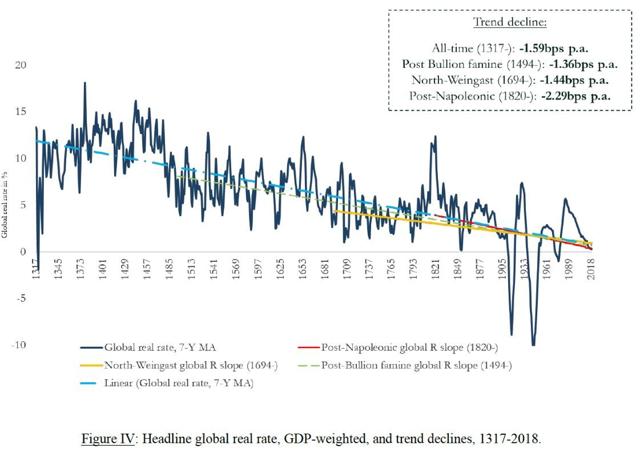 (Source: Bank of England)
As the world becomes wealthier and more productive, the natural cost of capital falls, especially as credit markets become global.
Second, and perhaps most important to the TINA true believers is the concept of earnings-yield risk premiums.
Since 2000 Goldman Sachs reports the earnings yield of the S&P 500 has been about 3.7% higher than 10-year Treasuries. This is the modern era historical risk-premium investors have demanded to own stocks vs risk-free US treasuries.
| | | |
| --- | --- | --- |
| 10-Year Yield | Theoretical "Fair Value Forward PE" For S&P 500 | Potential Decline Should Rates Ever Rise To 2.5% |
| 0.67% (today) | 22.9 | 29% (bear market) |
| 0% | 27.0 (Tech bubble highs) | 40% (severe bear market) |
| -1% | 37.0 | 56% (Great Recession Crash) |
| -2% | 58.8 | 72% (John Hussman prediction) |
| -3% | 143.9 (vs 1989 Japan bubble peak 90) | 89% (Great Depression Peak Decline) |
| -3.69% | 10,000 | 99.8% |
Theoretically, as long as long-term interest rates stay low enough forever, stock multiples could remain elevated far above their historical 16.35 25-year average.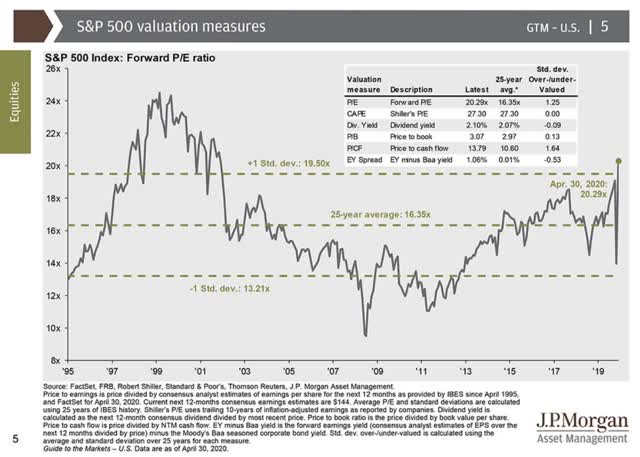 What's more, there is nothing that says that even if rates rise, as they've been doing in recent days on rising economic optimism that the market can't defy troubling economic and pandemic fundamentals and keep rising for weeks or even months longer.
…and Why Stocks Can't Defy Gravity Forever