This 7% Yielding Blue-Chip Is One Of The Smartest Buys Retirees Can Make Right Now
---
British American Tobacco is one of the most hated blue-chips in America, but for those who are comfortable with owning a tobacco giant, the rewards of buying this 7% yielding company could be rich indeed.
Bullish Thesis
Following the acquisition of Reynolds American, British American Tobacco is neck-and-neck with Philip Morris International to be the largest listed global tobacco company–slightly larger than PMI on net revenue, but slightly smaller on volumes.

British American's Global Drive Brands are Dunhill, Kent, Pall Mall, Lucky Strike, and Rothmans, and it also owns Newport and Camel in the U.S. The firm also sells vapor e-cigarettes, including its Vype brand, heated tobacco, with Glo, as well as roll- your-own and smokeless tobacco products. The company holds 31% of ITC Limited, the leading Indian cigarette-maker. " – Morningstar
British American Tobacco is a global giant with numerous premium brands and economies of scale that allow it to generate returns on capital (pre-tax profit/operating capital) of 183%, in the top 10% of the tobacco industry.
Joel Greenblatt, one of the best investors in history considered ROC to be the gold standard proxy for quality and moatiness.
Despite what the stock price of recent years might have you believe BTI is expected BTI is not a dying company.
FactSet long-term growth consensus: 6.7% CAGR
Ycharts long-term growth consensus: 6.2%
Reuters' 5-year growth consensus: 6.2% CAGR
FactSet consensus growth through 2023 (including recession): 5.5% CAGR
The historical margin of error adjusted consensus growth range: 4% to 8% CAGR
Historical growth rate over the last 20 years: 2% to 10% CAGR
BTI is expected to grow at its historical rate, courtesy of rapid growth in next-generation reduced-risk products, and the standard industry plan of hiking prices faster than volumes fall.
Once deleveraging is complete in 2021 buybacks can also resume providing an internal catalyst for EPS, FCF/share and continued dividend growth.
BTI's 2020 consensus payout ratio is 65%, right at management's long-term goal. That's compared to 85% that's safe for this industry.
While debt remains elevated following the Reynolds acquisition, S&P, Fitch and Moody's remain confident that BTI will achieve rapidly deleveraging over time. Thus far execution on paying down debt has been exceptional.
S&P credit rating: BBB+ stable outlook (5% 30-year bankruptcy risk)
Fitch credit rating: BBB stable outlook (same as MO's) 7.5% 30-year bankruptcy risk
Moody's credit rating: Baa2 (BBB equivalent) stable outlook, 7.5% 30-year bankruptcy risk
To sum up:
6.8% safe yield vs 1.9% S&P 500 (and 2% to 2.5% most dividend growth ETFs)
6.7% CAGR long-term growth consensus vs 6.4% for the S&P 500 and 5% to 7% most dividend growth ETFs
39% undervaluation vs 24% to 50% overvaluation for S&P 500
Risks To Consider
We are raising our uncertainty rating for British American Tobacco to medium from low because of the heightened risk to the business model posed by emerging categories. Although we expect Big Tobacco to ultimately dominate across all tobacco and nicotine categories, it is not yet clear how profitable the new categories will be. There is little visibility into the tax structure in heated tobacco globally, for example, which creates a wider range of outcomes than has historically been the case in tobacco.

Any investor owning tobacco stocks should have the stomach for fat-tail risk. Although the businesses are stable, government intervention is an omnipresent threat. Litigation risk is substantially lower for the European players because most countries do not have a class-action legal process. Nevertheless, we regard government and legal risks as low-probability events with high potential impact that investors should be aware of. In general, we believe regulation does little to affect the economic moat or the cash flows of tobacco manufacturers, and in some cases, regulation actually limits competition, lowers cost, and strengthens pricing power. Plain packaging is different, however, because we believe it could lead to trading down, which would erode pricing power. British American's portfolio is balanced across price points, which is likely to provide some insulation from trading down, but we would be concerned about the global industry profit pool if the plain packages are introduced in other major markets.

British American's reporting currency is the British pound, but it only generates around 1% of sales in Britain. It also has exposure to currencies too small to hedge in large amounts on the open market. Britain is not a major source of tobacco leaf, so a very small percentage of the company's operating costs is denominated in sterling, meaning that the firm is highly exposed to a strengthening of the British pound." – Morningstar
Valuation/Total Return Profile
2020 average historic fair value: $64
current price: $39
discount: 39%
potential good buy price: $61
Dividend Kings rating: potentially very strong buy
BTI 2025 Consensus Return Potential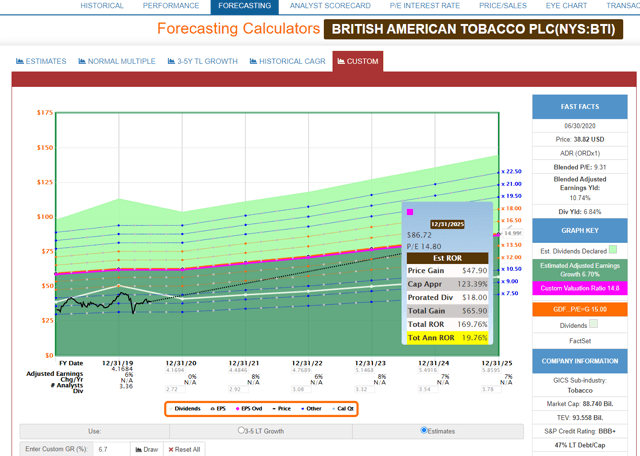 (Source: F.A.S.T Graphs, FactSet Research)
If BTI grows as expected and returns to the mid-range of historical fair value it could nearly triple your investment over the next five years.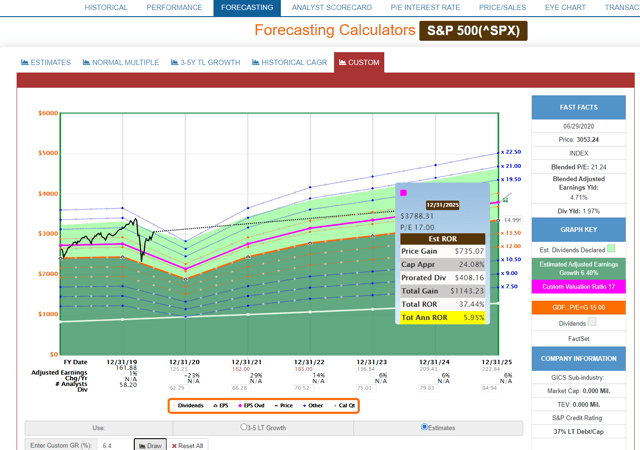 (Source: F.A.S.T Graphs, FactSet Research)
That's more than triple the return potential of the broader market.
BTI 2022 Consensus Return Potential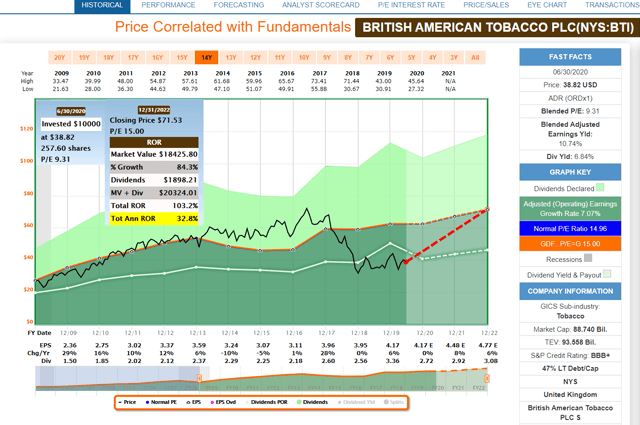 (Source: F.A.S.T Graphs, FactSet Research)
The consensus return potential for BTI over the next 2.5 years is 100%.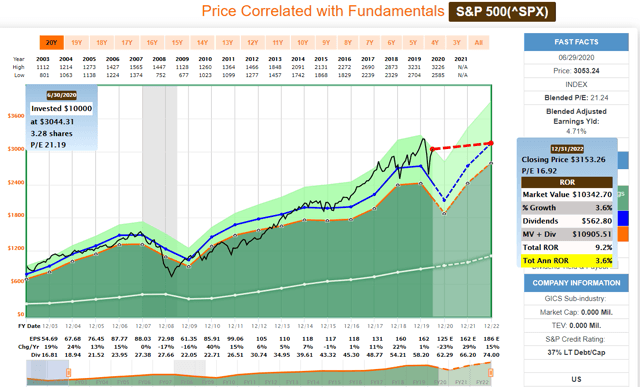 (Source: F.A.S.T Graphs, FactSet Research)
Which is 10X the return potential of the S&P 500 over that time.
Putting It All Together: Why BTI A Potentially Great High-Yield Investment Right Now

I base all my investing decisions based on the three priorities of long-term income investing.
To those three we add valuation since over 10+ year periods fundamentals and valuation mean reversion drive 90% to 91% of total returns.
| | | | |
| --- | --- | --- | --- |
| Goal | BTI | Why | Score |
| Valuation | Potential Very Strong Buy | 39% undervalued | 4/4 |
| Preservation Of Capital | Above-Average | BBB+ stable credit rating, 7.5% long-term bankruptcy risk | 6/7 |
| Return Of Capital | Exceptional | 40.5 % of capital returned over the next 5 year via dividends vs 11.3% S&P 500 | 10/10 |
| Return On Capital | Exceptional | 15.0% PWR vs 4.5% S&P 500 | 10/10 |
| Relative Investment Score | | | 97% |
| Letter Grade | | | A (excellent) |
| S&P | | | 73% = C (market-average) |
From the perspective of conservative income investors, BTI represents a potentially excellent long-term dividend growth stock with
259% better 5-year dividend return potential
233% better 5-year annualized probability-weighted expected returns