How to Protect Your Retirement Portfolio From the Craziest Bubble in History
---
In part 1 of these series, Why The Craziest Bubble In History Might Get Even Bigger, I explained why the current market rally is the most disconnected from economic fundamentals that the S&P 500 has ever been.
But I also explained why JPMorgan's Marko Kolanovic, head of macro quantitative and derivatives research for the bank, thinks that $400 billion in dumb money could be about to send stocks to record highs, even though we might currently be in a Moody's depression.
(Source: Ycharts)
The fundamental thesis that Mr. Kolanovic has is that
the lower volatility falls the more risk-parity quant funds have to buy stocks.
the more stocks they buy, the lower volatility falls
thus more and more money floods into the market, primarily S&P 500 index funds
rising prices beget rising prices in a steadily less rational but self-fulfilling cycle of rampant and fundamentally irrational speculation
Now I should point out that Wall Street is always full of smart people, making plausible-sounding predictions.
There is no guarantee that Mr. Koanovic is right. We'll never actually know whether quant fund money is the primary reason stocks have been rising.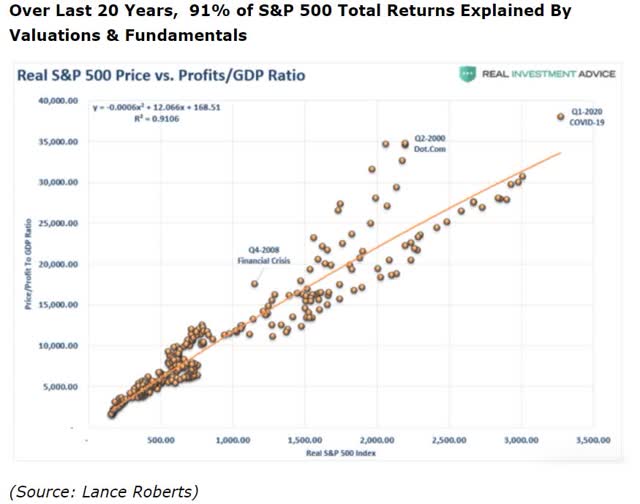 Stocks can remain irrational not just for months, but for years at a stretch. That's how the tech bubble got so big, with stocks reaching a peak forward PE of 27.2. That was four years after Alan Greenspan warned about "irrational exuberance" in stocks.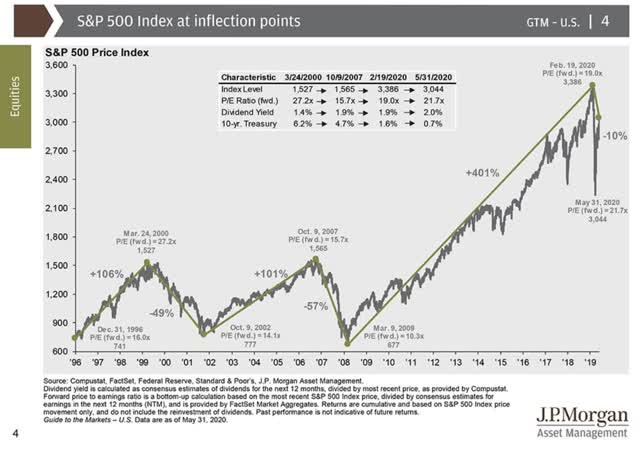 For context, the S&P 500 is currently at a 22.3 forward PE meaning it would have to rise 23% more to set a new record.
But IF the $400 billion quant fund hypothesis is correct, or more importantly, IF enough people believe it's correct, then the "greater fool" theory of rampant market speculation might take over. At least for a while.
For example, in the late 1960s the so-called "nifty 50" stocks, fast-growing blue-chips like IBM, Xerox, and McDonald's, were what most fund managers were buying.
They were paying 50 to 60 times earnings for companies that were growing quickly, but not at the 50% to 60% CAGR that Peter Lynch would have said justified such outrageous valuations.
Were these men (they were all men at the time) idiots? No, in fact, some of them literally were sitting next to Warren Buffett in Ben Graham's Columbia Business school class about securities analysis.
The father of modern securities analysis and valuation, and Buffett's mentor, taught some of these guys. Specifically, he taught them that for most companies 15 times earnings/cash flow was "reasonable and sound" valuation.
Yet these fund managers, many who had lived through the Great Depression crash of the Great Depression, were willing to pay 50 to 60 times earnings for a company like IBM.
Why? Because of confidence that their fellow fund managers would pay even more.
With what money? Why with the incoming fund flows that the rising market and soaring Nifty-50 were generating for ecstatic investors of course!
The more money fund managers could make for clients buying companies like IBM at steadily higher valuations, the more money would come to them, to allow them to buy IBM at higher and higher prices. Then, as now, it was largely a self-fulfilling prophecy.
Everyone was happy, other than Graham purists like Buffett who were sitting out the mania and refusing to pay such multiples.
The Nifty-50 crashed eventually, with some names falling 70% to 90% (just like tech bubble darlings decades later).
How can retirees potentially protect themselves from a bubble that we know will end one day, but have no way of telling if it's tomorrow or years from now?
Sound Risk-Management Strategies To Protect Yourself From The Craziest Bubble In History