What Could Keep Driving…Or Kill The Current Stock Market Rally
---
One of the things I've learned in the investment business is it's never a good idea to trust someone who is 100% certain about any outcome in the markets.
I've seen enough best ideas portfolios over the years to know most portfolio managers have no clue what their best ideas truly are until after the fact. There are simply too many unknowns and outside factors that can impact the economy, markets, sectors, and companies to ever give yourself permission to have complete certainty about the future.
Sure strong opinions are fine but they better be weakly held because the markets are a humbling place if you're not willing to look at both sides of an argument.
The most certain investors are often those who get trapped in the recency bias and assume what has worked will continue to do so forever or the contrarians who assume only that which has performed poorly is worth owning.
Both of these camps can be right depending on their time horizon and market environment but always thinking in either a momentum or value framework is a sure way to be disappointed eventually.
You could make a compelling bull and bear care for every asset class or market right now. What you believe about these cases depends on how you're positioned or what you believe about investing.
I don't know what the future will hold so here are the bull and bear cases right now:
S&P 500
Bull Case. The United States has been the cleanest dirty shirt in the global laundry hamper for years and the S&P 500 has been a huge beneficiary of this.
The S&P is dominated by some of the best and brightest companies in the world which now includes nearly a one-quarter weighting in the 5 biggest technology companies which seem to be taking over the world.
Growth stocks also benefit from lower interest rates and it sounds like the Fed is going to keep rates low for a long time.
Bear Case. Sure, the S&P 500 has beaten pretty much every other stock market in the world since the financial crisis but this may be the biggest reason it won't continue.
How quickly we all forget the precursor to an unbelievable run in the S&P 500 over the past 10+ years was a lost decade from 2000-2009. The S&P 500 lost money over the entire decade of the aughts. There is certainly no guarantee the current U.S. outperformance will last.
Concentration risk works both ways. Yes, it's helped on the way up but it could hurt investors in the S&P if those companies ever stumble or their lofty expectations aren't met.
Nasdaq 100
Bull Case. The Nasdaq 100 is up 38% in 2020. It's bizarre to think it would probably be up far less this year if there wasn't a global pandemic. The pandemic has pulled forward an enormous amount of adoption in trends like e-commerce: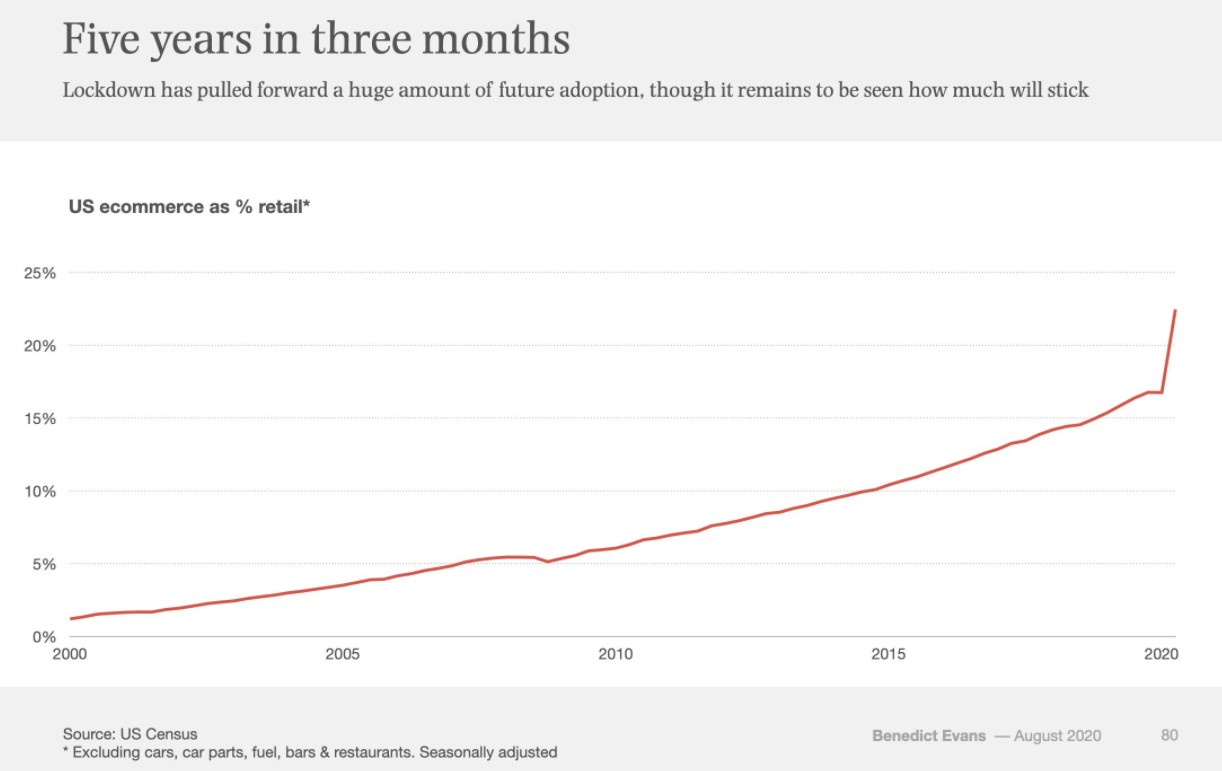 This has further strengthened the position of the incumbent tech firms and helped bring along newer companies much faster than they ever dreamed possible. Technology is now more firmly entrenched in all of our daily lives than ever.
These companies can also borrow at ridiculously low rates to use their equity to go on an acquisition spree. If they start buying up Roku, Sonos, Peloton, Slack, Twitter, or Spotify an M&A boom is a possibility to keep the party going.
Bear Case. Everything people were predicting in the late-1990s for the Internet happened and more. But we still had to go through the tech bust because expectations were far too high by 1999 that the companies couldn't possibly live up them.
The Nasdaq fell close to 80% after the huge run-up in prices during the dot-com bubble: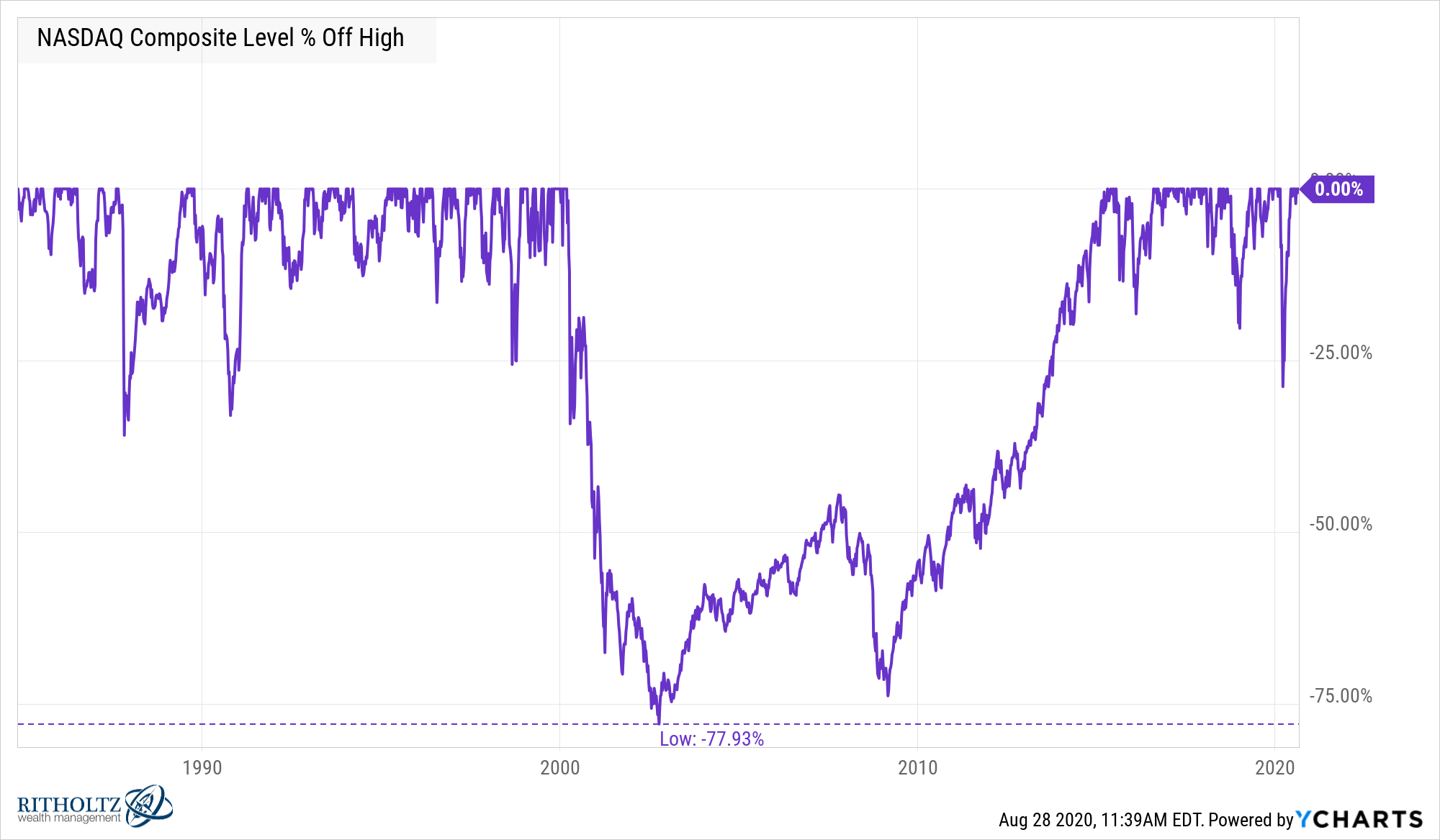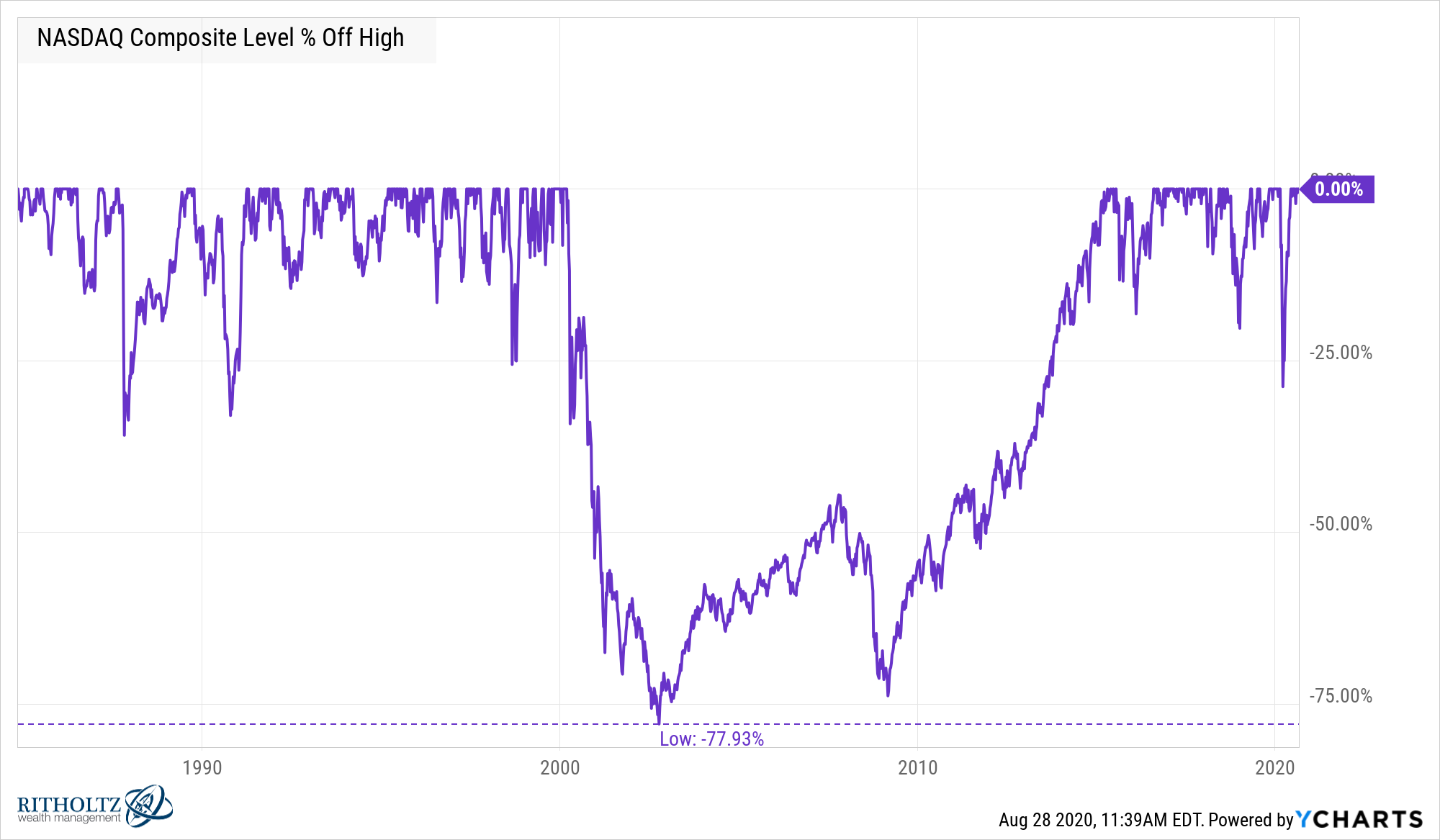 The index didn't reach the 2000 peak price levels again until 2015. Things were far crazier back then than they are now. Today's tech companies actually have solid businesses, cash flows, and profits in most cases. They didn't back then.
But there is a case to be made for expectations getting ahead of themselves and that's probably the biggest risk for tech stocks other than government regulation.
And if you think the S&P 500 is concentrated, Apple, Amazon, Microsoft, Google, Facebook, and Tesla make up more than 51% of the Nasdaq 100. This is a huge bet on a handful of companies continuing to knock the cover off the ball.
Small Caps