Proof This Market Decline is Meaningless
---
The perfectly normal, healthy, and expected market pullback is picking up steam, causing many investors to worry a correction or even a new bear market is upon us.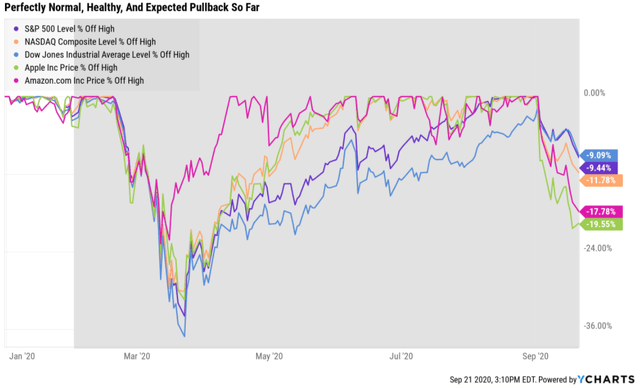 The S&P 500 is down 9.4% from its record highs set on September 2nd, while the Nasdaq is in a correction.
Beloved tech names like Apple and Amazon, are flirting with bear market territory.
There are many competing analysts out there that would tell you either this is a classic "buy the dip" moment, or the start of "the big one", an epic market crash that could mirror the epic 50% market decline following the popping of the tech bubble.
For example, supporting the "buy the dip" argument are such cherry-picked facts as
from 1997 to 2000 the Nasdaq suffered three 17% corrections and the tech bubble didn't pop
Friday, September 18th was quarterly options expiration day, and the last two bear markets both bottomed the day after option expiration
On the other hand,
JPMorgan Asset Management estimates that if we get a double-dip recession (economy is showing signs of weakening again), then stocks could fall 22%, another 145 lower
Ned Davis Research says its base case scenario is that this is a 15% to 20% correction (so about half over)
Tech bubble 2.0 valuations mean that stocks COULD fall into a bear market right now, rather than reflate the bubble as occurred between 1997 to 2000
Rather than try to pretend like I know where the market's headed next, let me simply point out the strongest proof that this current market downturn is totally meaningless, and thus something prudent long-term investors need to ignore if they want to actually accomplish their financial goals.