Here is Who's Likely to Win the November Election and What it Means For Your Portfolio
---
The current market decline is being blamed by some investors on rising election uncertainty.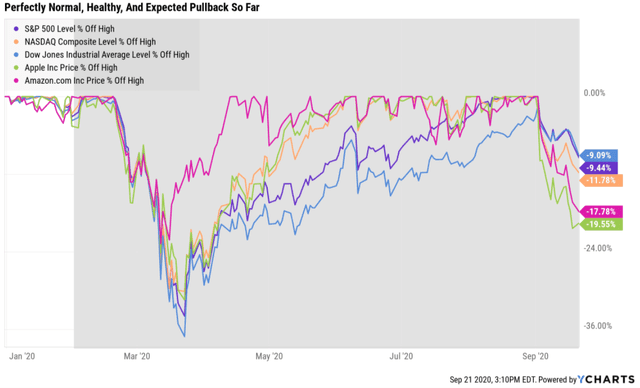 That's certainly one plausible explanation for the S&P 500's current pullback, which is flirting with correction territory.
Fortunately, while this election is perhaps the most important in history, occurring as it is during a pandemic that shattered the US economy and threatens to push it back into a double-dip recession, we have some pretty powerful tools for forecasting who is the most likely winner in November.
Biden Is Heavily Favored To Win The White House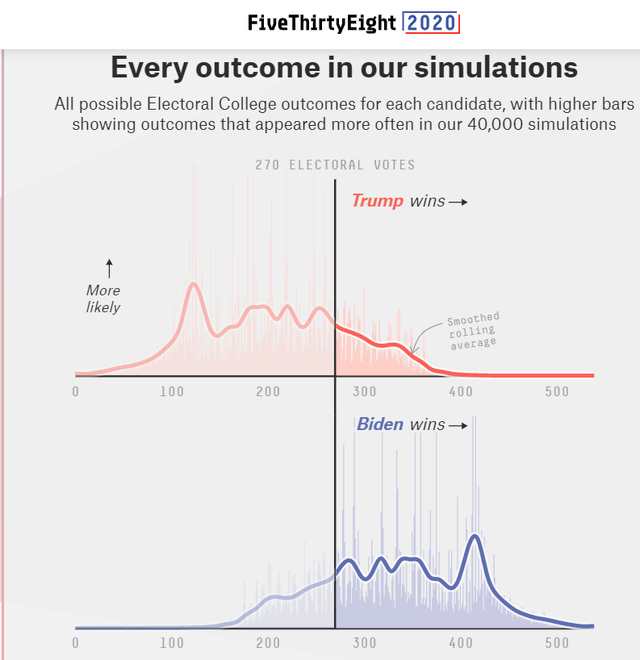 Every day FiveThirtyEight, the most accurate forecasters of US elections since 2008, input the latest polls, and via the most advanced model of any media outlet, run 40,000 simulations of the election.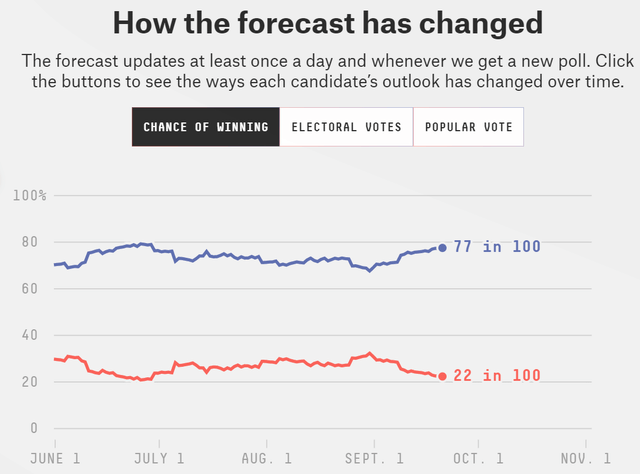 (Source: FiveThirtyEight)
Biden's probability of victory has been stable in a range of 70% to 80% since June 1st, and he's currently returning to the upper end of that range.
Now probabilities are NOT certainties, such things don't exist in our world. There will be just one election, not 40,000 but by simulating 40,000 daily elections with the best available data, FiveThirtyEight is able to tell us the probabilities of all the most plausible and not so plausible outcomes.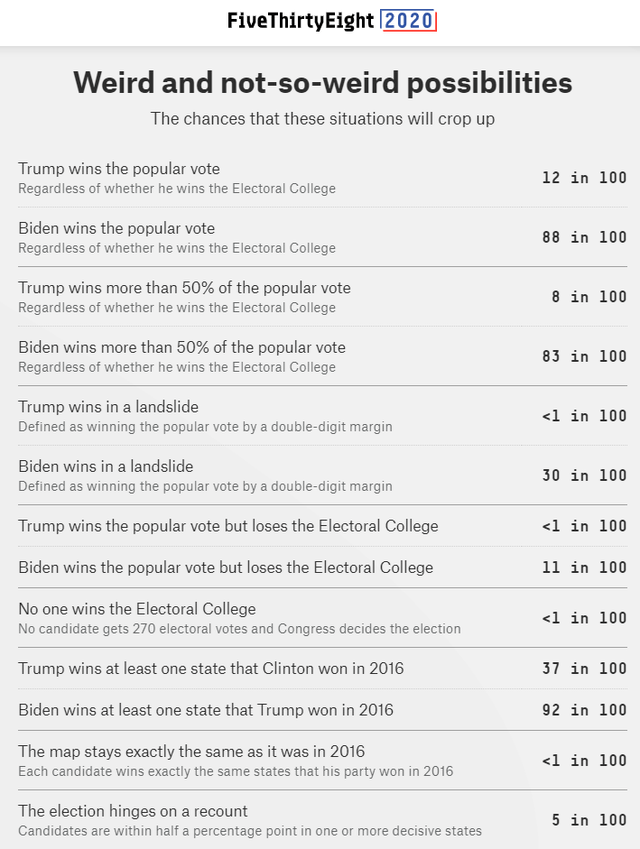 However, as useful as this tool is for data nerds like me, there is a far more important race to watch than the Presidential one.
Who controls the Senate is likely to determine the fate of the currently gridlocked stimulus debate, and according to Moody's, whether or not the US is likely to fall back into a recession.
The Democrats Are Slightly Favored To Win The Senate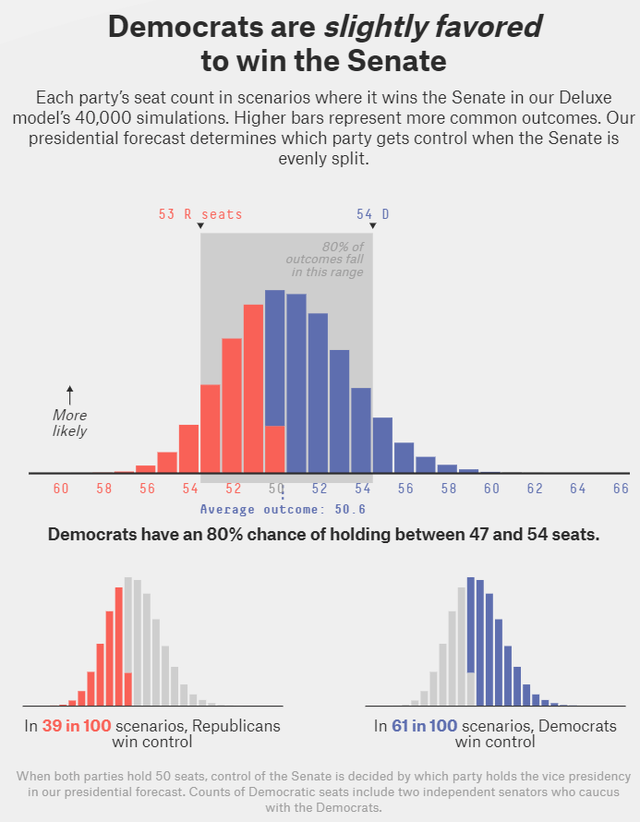 (Source: FiveThirtyEight)
According to 538, the Democrats have a 61% probability of winning control of the Senate, most likely ending up with 50 or 51 seats.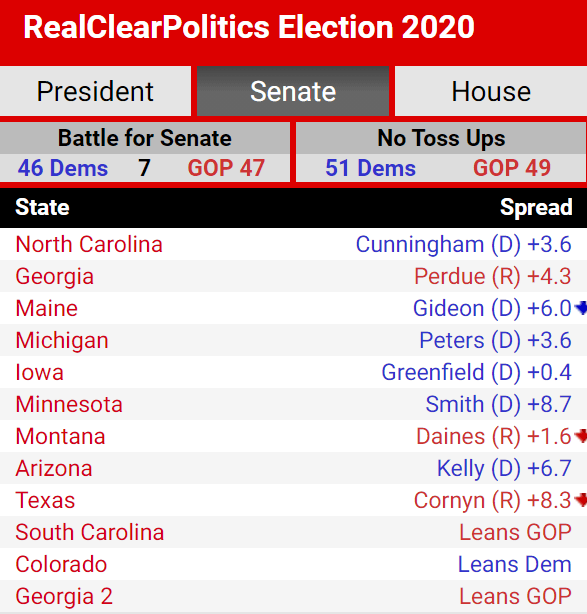 Real Clear Politics agrees, saying that if the current Senate polls prove accurate Democrats would end up with 51 seats and control of the chamber.
Whatever your personal political leanings are, what matters for your portfolio is what's likely to happen, not what you want to happen.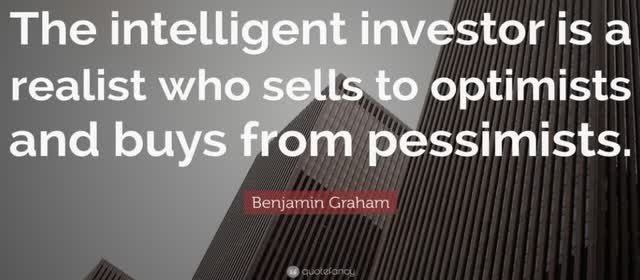 So here is what a Democratic Sweep which is looking more likely with each passing day, is likely to mean for your portfolio.
What An Increasingly Likely Democratic Win Means For Your Portfolio