The Second Wave is Here: 3 Things Investors Need to Know
---
All year health experts have been warning that in the winter, as people went indoors and lower humidity made the virus more contagious, that a second wave of the pandemic was not just possible but likely.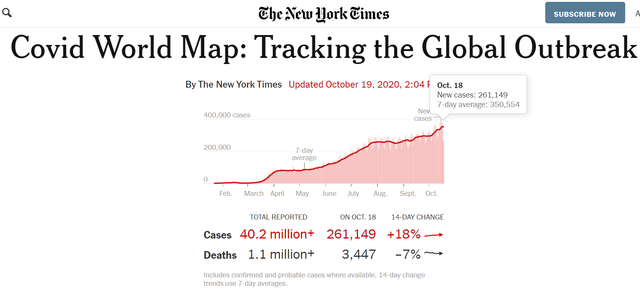 In the last two weeks, daily global cases have risen by 18% as many countries that thought they had the virus contained are now battling with a strong resurgence.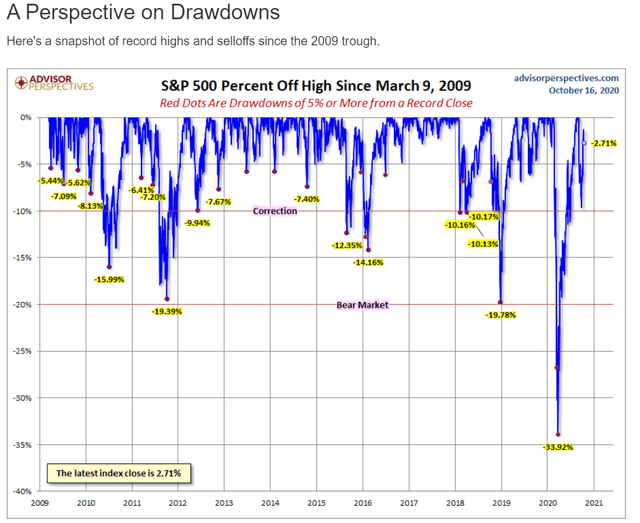 Given that this pandemic has already caused a 34% market plunge, with lockdowns triggering the fastest bear market in history, it's understandable that investors might be nervous about the second wave that appears to have arrived, just as experts predicted it would. So here are the three most important things you need to know about the second wave, and what it likely means for your portfolio in the coming weeks and months.
Things Are Likely To Get A Lot Worse Before They Get Better
The Institute for Health Metrics & Evaluation, or IHME, expects that this second wave to peak around the end of the year, in terms of new infections.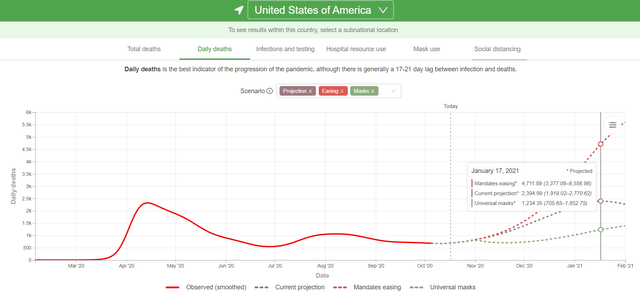 (Source: IHME)
Deaths generally peak two to three weeks after new cases, and globally the second wave is expected to kill between 1.6 and 4.7 million by February 1st.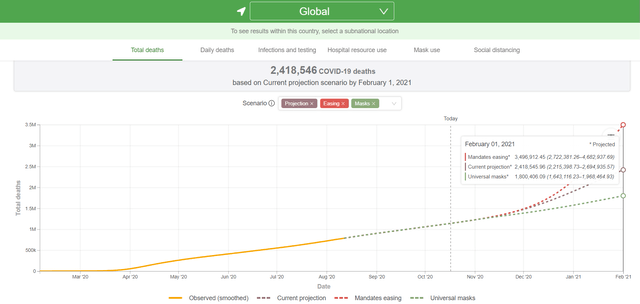 (Source: IHME)
Globally IHME is expecting deaths to hit 2.4 million within a few months, representing 1.3 million deaths over the next four months. For context, it's taken this pandemic 10 months to kill just over 1 million people. Now, these are some grisly forecasts, but there is both good and bad news for anyone concerned with saving lives…as well as their portfolios.
More Lockdowns Might Be Coming…Putting Us At Higher Risk Of Another Bear Market
If the prospect of 2,400 US daily deaths by the end of the year is saddening, there is good and bad news about the IHME model.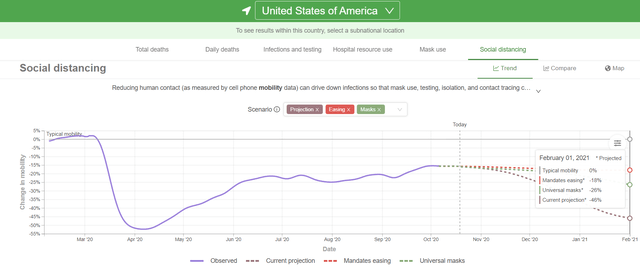 (Source: IHME)
IHME's model assumes that about 20 states will lockdown as some European cities are now doing (such as Paris). NYC is also attempting to shut all non-essential businesses in the Bronx and Queens to control surging viral cases. IHME's model specifically estimates that by February 1st US mobility will fall to 46% below the pre-recessionary baseline, not much higher than the -52% we hit in April. How the heck can there be good news in this? Doesn't this model predict another economic catastrophe that is likely to see hundreds of thousands of Americans dead and leave the stock market in ruins? Yes and no, as with most things in line, there are critical nuances to understand that will determine whether or not the US falls into a depression and the stock market back into a terrifying bear market.