A Great Way To Keep Your Portfolio Safe And Even Profit During These Uncertain Times
---
I think we can all agree that we are living through a perfect storm of uncertainty right now:
The most dramatic election in modern history is still undecided.
Control of Congress won't be decided until January 5.
The worst pandemic in over 100 years continues to get worse by the day.
Stimulus gridlock may not be broken for several months.
The economic recovery is starting to falter.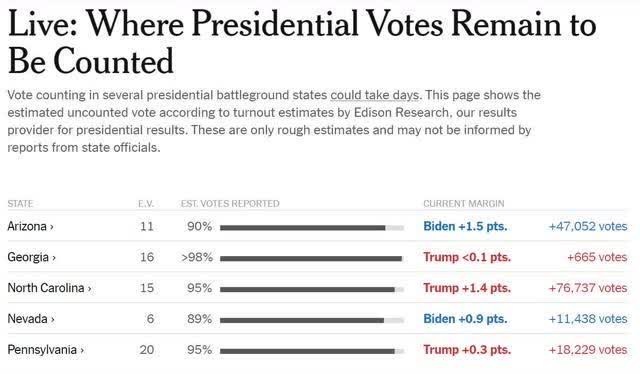 (Source: NYT) as of 3:36 AM EST, Friday, November 6th
In some elections, a single tipping-point state decides who becomes president. In this election, we have five such states and the margins are within 1.5% in all of them. President Trump has vowed to recount all states where the margin is 1% or less (the legal requirement). Recounts can take up to two weeks just to begin and usually take about one week to complete.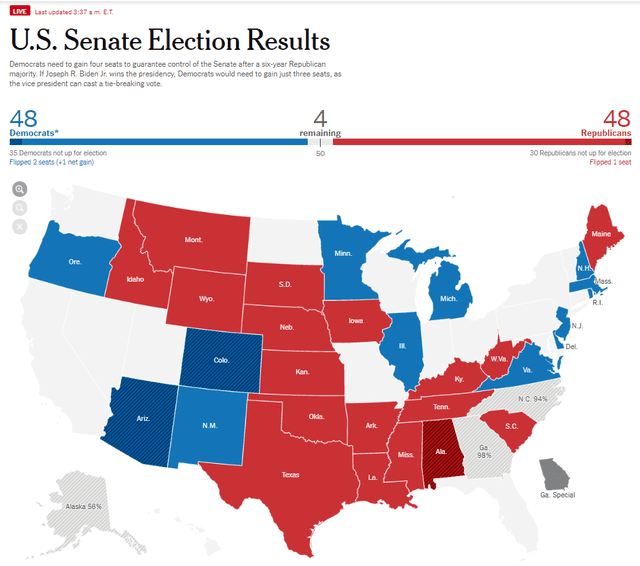 (Source: NYT) as of 3:37 AM EST, Friday, November 6th
The Senate is currently tied with four races left outstanding. While there's a good chance that the GOP will keep control of the Senate, control of that chamber is likely to be decided by the two Georgia senate runoffs on January 5.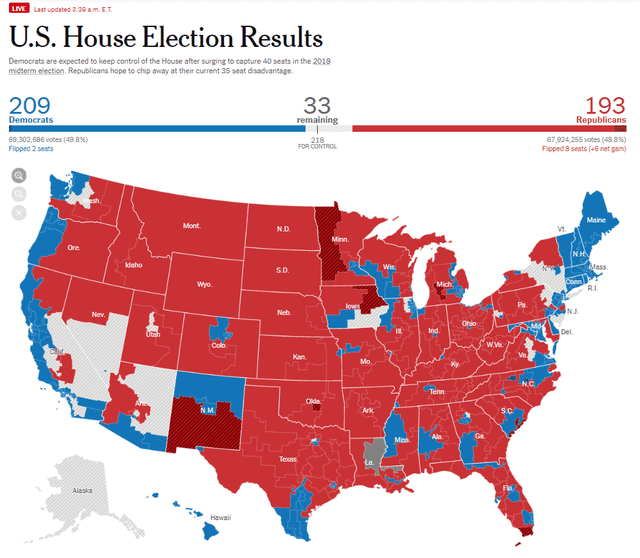 (Source: NYT) as of 3:39 AM EST, Friday, November 6th
While the AP and ABC News have declared the Democrats will retain control of the House, the Republicans have so far flipped six House seats and the New York Times has yet to call control of that chamber. Then again, Democrats were expected to gain six to 12 seats in the House, so the GOP has outperformed the polls. It normally takes several weeks for all the votes to be counted in a presidential election, and that's proving to be the case this time. A record 160 million Americans are estimated to have voted, 66.6% of eligible voters – the highest turnout since 1900. Meanwhile, the most severe pandemic in over 100 years continues to get worse by the day, just as health experts have been warning was likely to happen.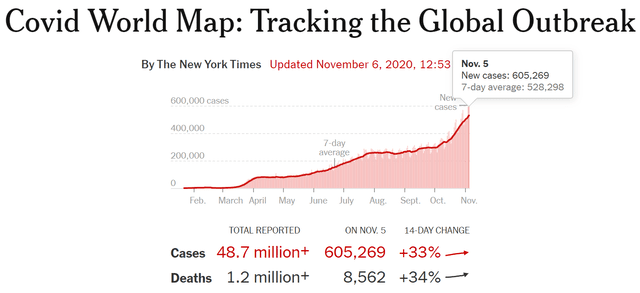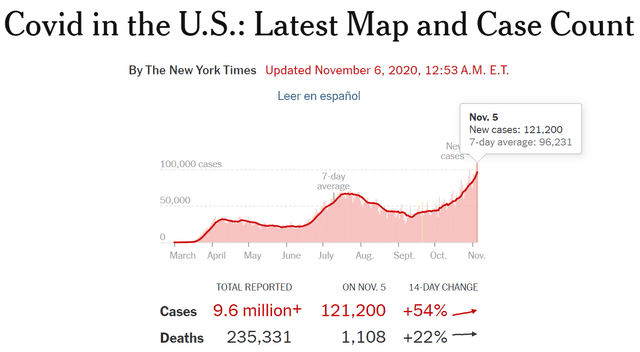 Globally, the virus is rampaging unchecked in many countries, including Europe, where 11 countries and counting are reimposing lockdowns.
In the U.S., 41 states report uncontrolled spread, and 50 out of 51 states and D.C. have transmission rates above 1.0, meaning new cases are likely to keep accelerating.
The U.S. just reported 121,200 new cases on November 5, a grisly record-shattering result so far in this health crisis. Here's what we could still be in store for:
Dr. Anthony Fauci warned months ago that we might see 100,000 daily cases in a second wave (this is the third).
Dr. Michael Osterholm (director of the Centers for Infectious Disease Research & Policy at the University of Minnesota) warned months ago that 100,000 daily cases were likely.
Harvard estimated that, based on the 1918 flu pandemic, we might see as many as 200,000 daily cases this winter
The Institute for Health Metrics and Evaluation's (IHME) modest estimate is that U.S. daily cases will peak at the end of the year… at about 200,000 to 250,000.
IHME's model assumes most states will lockdown again, something the consensus of health experts does NOT expect to happen.
As such, the IHME forecast may be conservative. In the last week, we've been achieving the higher end of IHME's base-case forecast range in terms of daily deaths.
So what does this all mean for the economy so far?
Each week, I do an extensive review of the economy for Dividend Kings members that includes:
A short pandemic summary (taken from the Daily Blue-Chip Deal Video pandemic updates)
The state of the credit/financial markets (watching for signs of another financial crisis)
A review of consumers & households
A review of small businesses
High-frequency economic indicators (to watch for signs of a potential double-dip recession)
Economic growth forecasts, including from the blue-chip economist consensus (16 most accurate economists out of 45 tracked by MarketWatch).
So far, the high-frequency indicators show that most Americans are ignoring the virus, just as they did in January and February of 2020.
To see what I mean, check out "Weekly Recession Update: The Pandemic Is Getting Worse, but the Economy Is Not."
With that said, the risk is that – like in March and April – if deaths rise too high, consumers, businesses, and states may start locking down again. And in a hurry.
Already, the IMHE is indicating that if we ignore the virus today, we could have up to 8,400 daily deaths by February 1.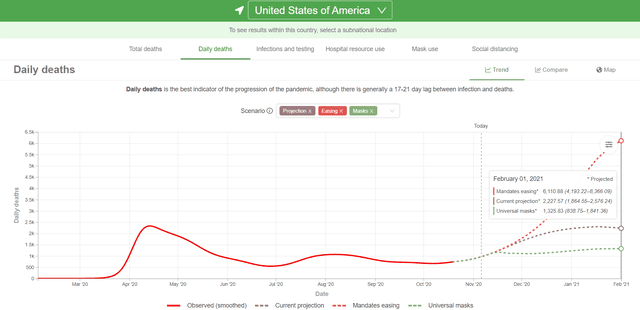 (Source: IHME)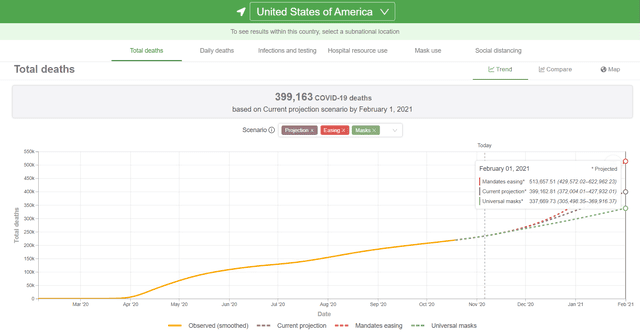 (Source: IHME)
IHME estimates we could see as many as 623,000 deaths by the end of January.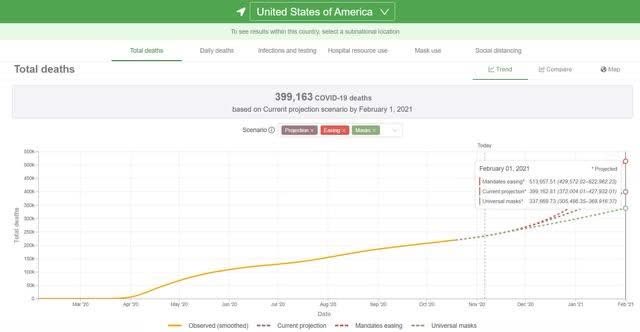 (Source: IHME)
For now, the U.S. is proverbially throwing grandma under the bus so we can keep eating at Chilis. At some point, that may change though, and with frightening speed – just as occurred in March 2020. And:
The CDC estimates that most Americans won't have access to the expected vaccine until mid-2021.
Recent polls show about 50% of Americans don't plan to get vaccinated because they don't trust that it will be safe and effective.
JPMorgan, most economists, and a recent survey of U.S. CEOs estimate the probability of a double-dip recession caused by the raging pandemic at 20%-25%.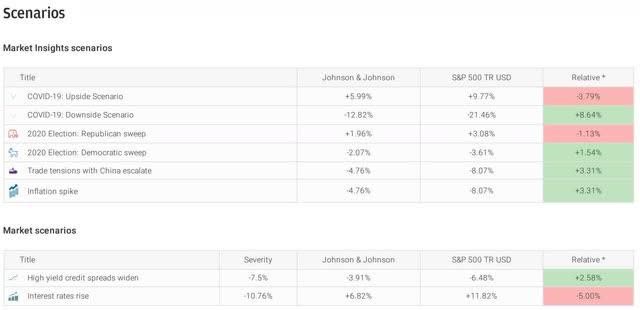 (Source: JPMorgan Asset Management)
JPMorgan's blue-chip economists, one of the 16 most accurate teams tracked out of 45 by MarketWatch, estimate that a double-dip recession could cause stocks to fall into a mild 22% bear market.My stock market conclusion: In this perfect storm of uncertainty and short-term risk, protecting your portfolio is more important than ever.
Dividend Kings: Giving You the Tools and Advice to Stay Safe in ALL Economic, Political, and Market Conditions
The Dividend Kings has been tirelessly working for over 18 months to create the easiest and most effective tools to help our members safeguard their hard-earned savings. All while maximizing long-term income and achieving strong total returns over time so they can achieve their long-term financial goals.