The Best Way to Get Rich Investing In Tesla
---
In part 1 of this series, I explained why analysts expect Tesla to become one of the greatest and highest quality car makers on earth.
However, that doesn't mean you can just buy it right now and hope to become rich. That's because there is one final fact about Tesla that is the most important of all.
Fact 3: Tesla's Valuation Today Makes It A Gamble, Not An Investment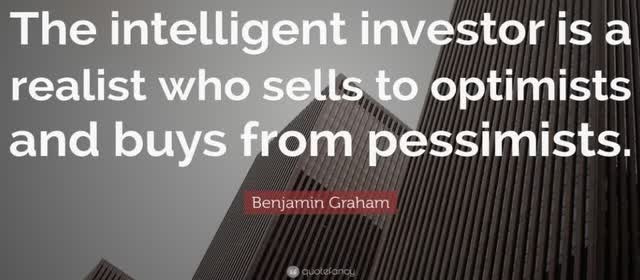 There is an important difference between rampant speculation and sound long-term investing.
An investment operation is one which, upon thorough analysis, promises safety of principal and a satisfactory return. Operations not meeting these requirements are speculative." – Ben Graham, Securities Analysis
Pure speculation involves buying an asset purely with the short-term goal of selling it to some "greater fool" who you hope will pay more than you did.
Now valuing a hyper-growth company that only recently became profitable isn't always easy.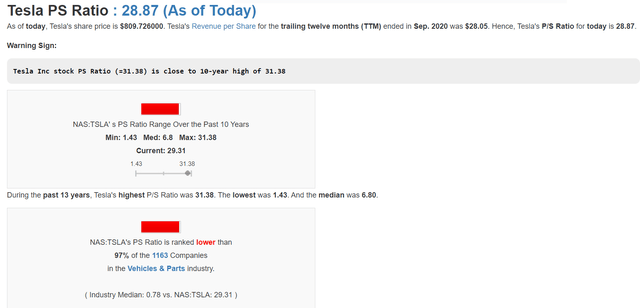 (Source: Gurufocus Premium) 
This is why I let the market tell me the intrinsic value of a company based on the most appropriate fundamental valuation metric.
In the case of non-profitable or recently profitable companies that is the price/sales ratio over a statistically significant period of time.
over 13 years there is a 90% probability that the median P/S ratio represents a reasonable estimate of intrinsic value for a company
2021 fair values: $329 = $48.4 sales/share X 6.8 13-year median P/S
equals 52x 2021 consensus operating cash flow
and 40X EBITDA
Morningstar estimate $306 based on their proprietary DCF model
current price: $824
150% overvalued
Dividend Kings rating: potential trim/sell
potential good buy price: $214 or less (35% margin of safety)
5-year CAGR total return potential range: -21% to 8% CAGR
long-term growth consensus: 35% CAGR
the margin of error adjusted long-term growth consensus range: 9% to 36% CAGR
What does paying a 150% premium for Tesla get you? Incredible valuation risk.
Tesla 2022 Consensus Return Potential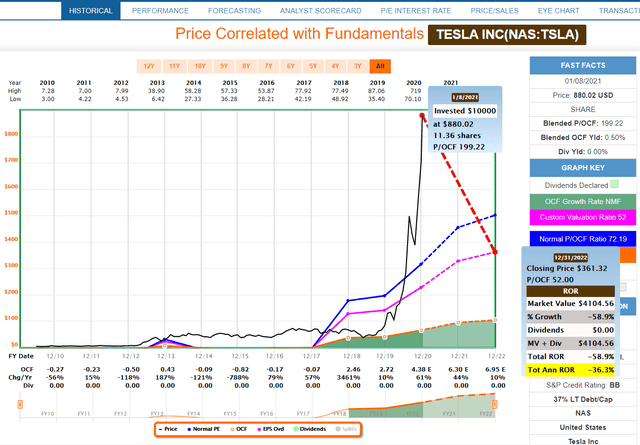 Tesla 2026 Consensus Return Potential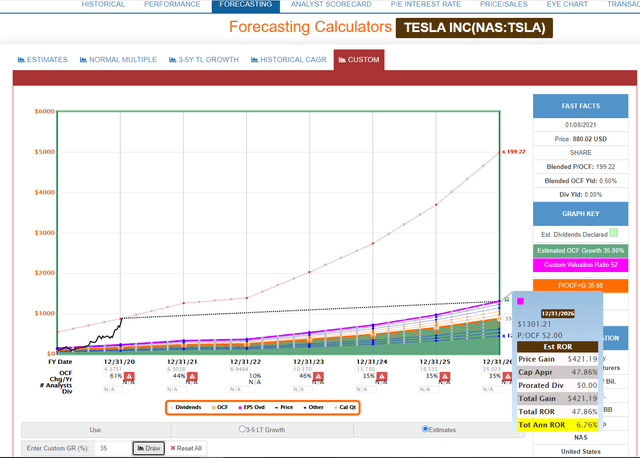 (Source: F.A.S.T Graphs, FactSet Research)
The good news is that IF Tesla grows at the 35% CAGR analysts expect over time, then over the next five years, investors might make about 7% CAGR total returns.
Along the way, they risk a 59% decline by the end of 2022, and that's if TSLA grows as analysts expect, which it almost never does.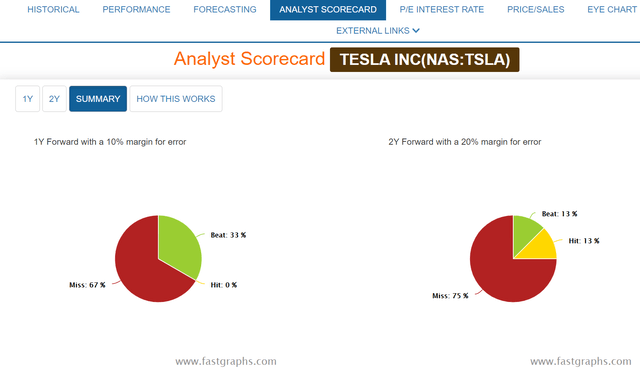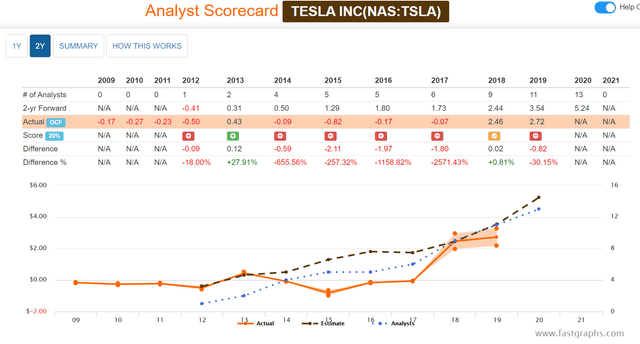 Note that operating cash flow is the most accurate fundamental metric Tesla has.
on EPS and EBTIDA TSLA has historically missed 100% of the time
by at least 20% for two-year forecasts
In other words, the margins of error are sky-high on this speculative hyper-growth investment.
My Reasonable And Prudent Plan For Buying Tesla For My Retirement Portfolio In 2021