An Economic Boom Is Coming But Not All Stocks Will Profit
---
After epic rallies in 2019 and 2020, the market is taking a breather so far in 2021.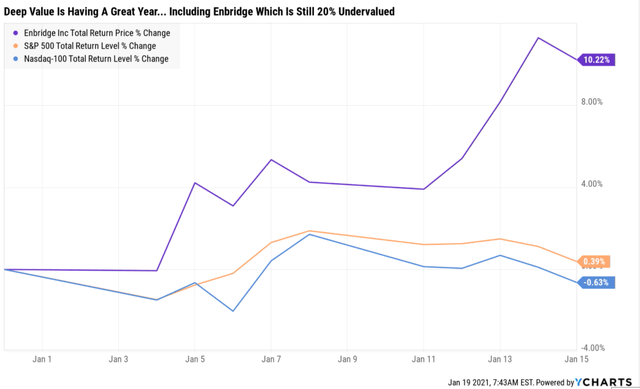 Of course, not all stocks are performing equally well or poorly.
S&P 500 is barely up for the year
Nasdaq is down for the year
Enbridge (ENB), a Canadian dividend aristocrat pipeline giant is up like a rocket, 10% in two weeks
Moody's, one of the 16 most accurate economists in the World according to MarketWatch, has just put out its latest base-case economic forecast.
which has important implications for your portfolio
because while the greatest economic boom in 35 years is possibly coming
not all stocks will benefit equally
Why Moody's Expects Two Years of BlockBuster Growth
Moody's points out that the US is now on track to potentially deliver a fiscal stimulus of almost 25% of GDP, the highest in the world.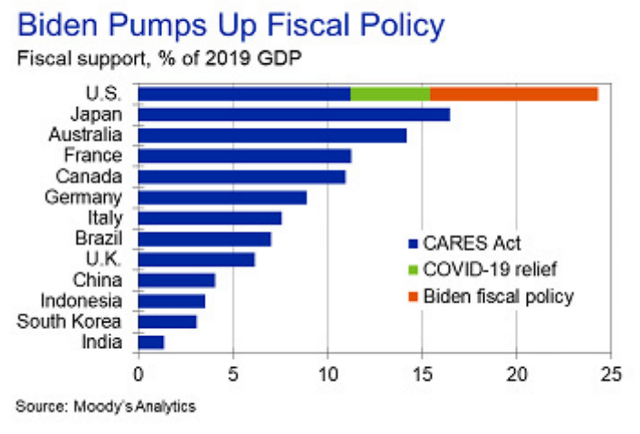 With this additional boost, real GDP should be robust at just over 5% this year and the same next, bringing the economy back to full employment by early 2023." – Moody's (Emphasis added)
Moody's expects inflation-adjusted GDP growth of more than 10% in the next two years.
the best GDP growth in 35 years


Moody's is now forecasting a $1.2 trillion net infrastructure bill.
$1.5 trillion in total spending
with $370 billion funded by increased taxes
tax hikes expected to start in 2024
A total of $3.1 trillion in total fiscal stimulus is what Moody's considers the most likely outcome.
most likely passed in the first half of 2021
via reconciliation
The total amount of stimulus would be close to $7 trillion, $12 trillion if you include the Fed's QE efforts.
60% of GDP worth of combined stimulus
Moody's is so far the most optimistic blue-chip economist when it comes to stimulus but Goldman and Morgan Stanley both expect about 6% GDP growth in 2021 as well.
Goldman expects $1.1 trillion in round three stimulus ($800 billion less than Moody's)
Why Some Stocks Will Soar And Others Will Likely Collapse