3 Reasons to be Bullish in 2021: Part 2
---
In part one of this series, I explained how economists and health experts were optimistic about the end of the pandemic in 2021 and the best economic growth in 36 years.
this is the backdrop for what Goldman Sachs thinks could trigger a 25% two-year rally
and JPMorgan thinks could lead to a 25% stock rally in 2021 alone
But there is one final catalyst that is the most important of all and could make or break the S&P 500 in 2021.
Reason 3: Corporate Earnings Are Justifying More Of This Rally Than Many People Realize
At the start of January FactSet's John Butters noted something remarkable.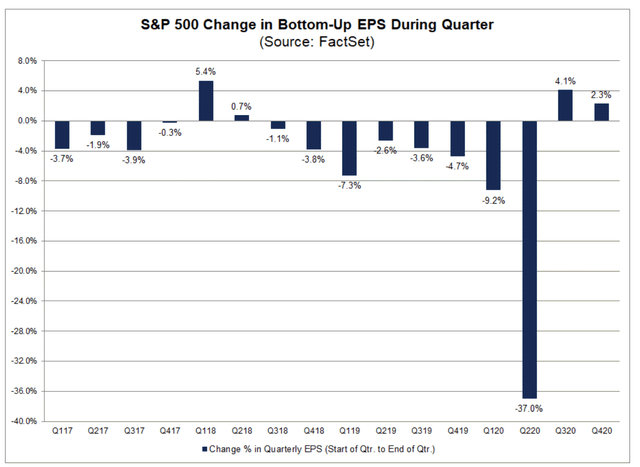 Normally, before every earnings season, analysts cut earnings growth forecasts by 4.2% to 5.2%.
this is why 75% of companies on average, beat expectations by about 5% '
and management teams look good and stock prices tend to do well during earnings season
Only when unique secular events, such as 2017's tax cuts or the end of this pandemic, are likely to cause companies to still blow out results, are analysts confident enough to raise expectations.
That's what's been happening for the past month. With consensus S&P earnings growth steadily rising week after week. Yet despite those rising expectations, this earnings season is proving one for the record books.
so far FactSet reports 86% of companies are beating expectations vs the 5-year average of 74%
so far companies are beating expectations by 22% vs 6% 5-year average
This is with analysts steadily raising the bar for Q4 results, which so far corporate America is crushing.
The $750 billion to $1.1 trillion in stimulus that most economists expect in March, is expected to be matched by $1 to $1.5 trillion in infrastructure spending starting in June.
That spending will take several years (Moody's estimates three) to fully work its way through the economy. But by the time it does, America's unemployment rate is expected to be around 4.0%, one of the lowest levels in 50 years.