The Investment Strategy That Makes Your Life Easier
---
By Ben Carlson
After peaking in the fall of 2007 with the onset of the Great Financial Crisis, the U.S. stock market didn't hit new all-time highs again until the spring of 2013.
At this point, the S&P 500 was already up more than 150% from the bottom in March of 2009.
There would be 45 new all-time highs in total in 2013, a year in which the S&P rose more than 30%.
At this point, people became worried the easy money had been made. Too far, too fast they warned.
The market didn't care.
There were 53 new highs in 2014, 10 more in 2015, and an additional 18 in 2016. Then things really ramped up in 2017 with 62 new all-time highs, which was followed by 18 in 2018. Then in 2019 the market was again up more than 30% plus 35 more new highs.
Surely, this couldn't persist.
And in the face of a global pandemic, it sure seemed like it probably wouldn't last. After 13 new highs before things started to shut down in March, it seemed like the party was over.
And it was, at least for a few months. But then there were 19 more new highs for the remainder of the year after stocks came roaring back, good enough for 32 new highs on the year.
In 2021, the U.S. stock market has already tallied 8 new highs through the close on Monday. That's a total of 281 brand spankin' new highs since 2013.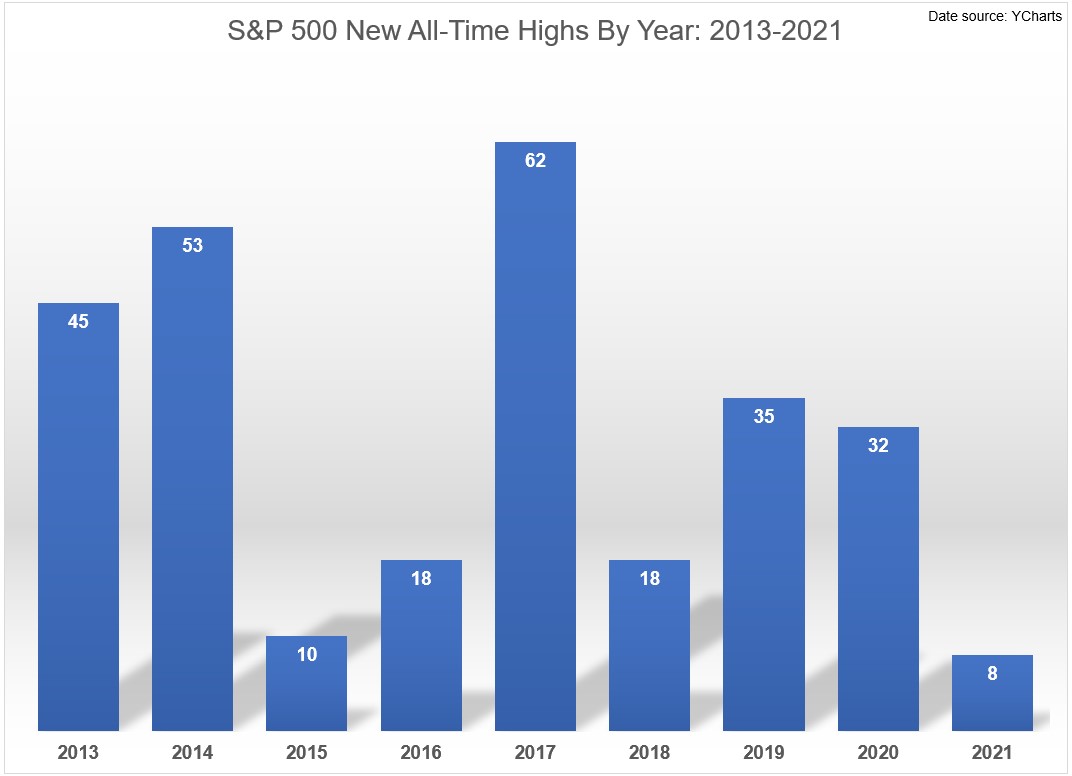 The entire way up there have been naysayers warning about stretched valuations, the Fed, government debt, interest rates, euphoria and bubbles.
And to be fair there have been corrections and crashes in this time. Since 2013, the S&P 500 has experienced drawdowns of -12%, -13%, -10%, -20% and -34%. Yet each time it's come charging back to new highs.