Economic News That Could Make Or Break Your Portfolio
---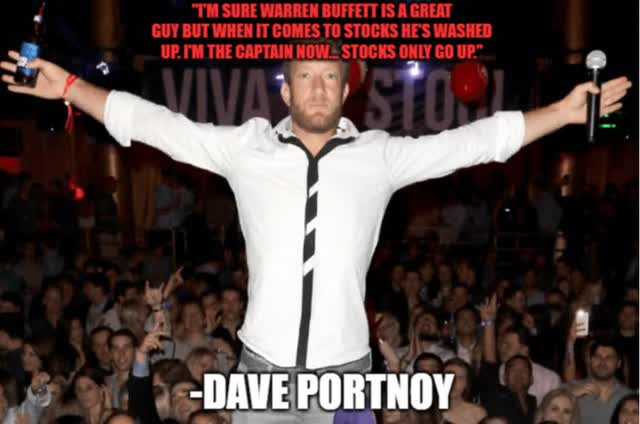 (Source: Imgflip)
Back in mid-2020 shock-jock Dave Portnoy whipped Wall Street into a frenzy when he proclaims that "stocks only go up." Acolytes of Portony might be forgiven for thinking this is true.
stocks went up 30% in 2019
stocks went up 18% more in 2020 (despite the worst recession in 75 years)
the S&P 500 is up almost 5% YTD so far, in less than two months
JPMorgan at the end of 2020 said that if EVERYTHING went right stocks MIGHT potentially go up 25% in 2021
Goldman Sachs predicted that it would take until 2022 for the S&P 500 to rise another 25%
at the current pace, stocks would melt up 51% by the end of the year
Of course, stocks can't actually go straight up, at least not for very long.
This brings us to the economic news that could make or break your portfolio in the coming years.
Congressional Budget Office 2021 Through 2031 Economic Forecast
every three months the CBO puts out a decade long economic and budget forecast
projections based on legislation passed through January 12th, 2021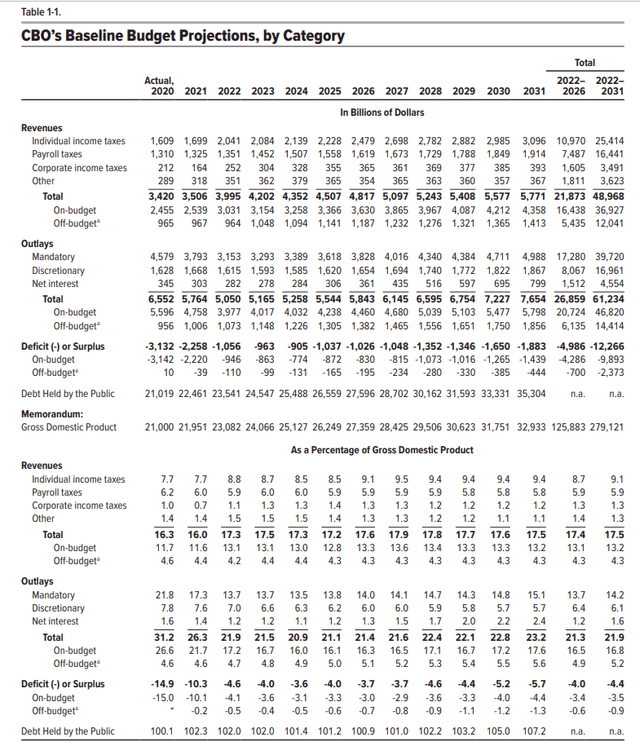 (Source: CBO)
The CBO expects most $1+ trillion deficits this decade, including a total of $12.3 trillion in cumulative deficits over the next 10 years.
Debt/GDP rising to 107.2% by 2031 up from 100% in 2020
$35.3 trillion in total debt held by the public
standard economics teaches that such large deficits will cause long-term interest rates to rise
short-term ones as well due to high inflation and thus the Fed hiking short-term rates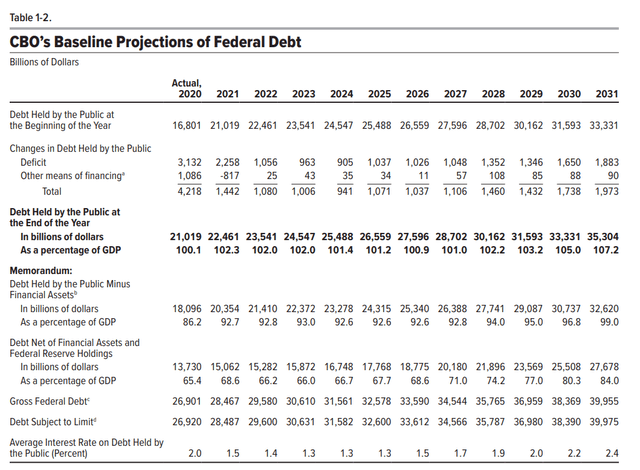 (Source: CBO)
average borrowing costs are expected to continue falling through 2025 before rising to 2.4% by 2031
0.4% adjusted for inflation, as close to free borrowing for the US Treasury as we'd ever want to see

(Source: CBO)
military spending expected to rise every single year
yes even with Democrats in charge of Congress and the Presidency
because lobbyists spend a lot of money and supply chains have been built in every congressional district precisely so that no budget cuts can occur without layoff photo op threats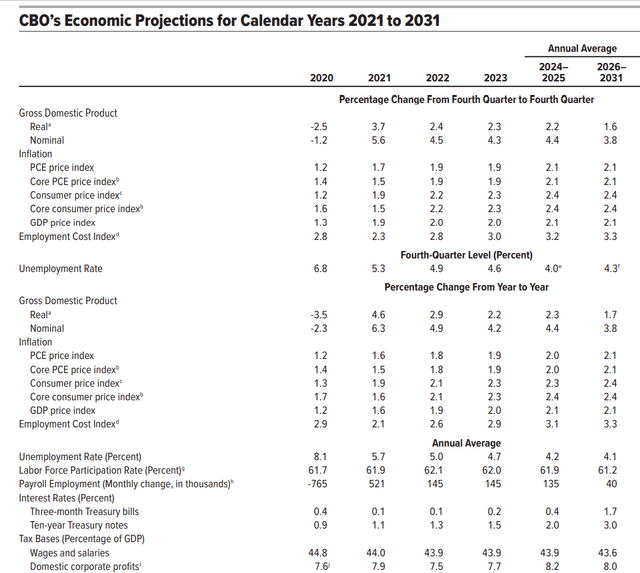 (Source: CBO)
corporate taxes not expected to increase until 2022
by 2025 stronger economy means corporate profits are back to record amounts
CBO expecting very anemic growth beyond 2026
very modest inflation of 2.0% to 2.1%
10-year yields averaging 3.0% from 2026 through 2031
basically a return to 2019 10-year yield levels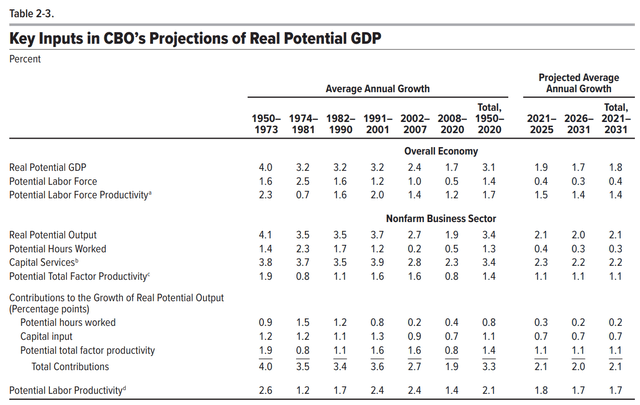 (Source: CBO)
growth rate in the labor force will be a drag on growth for the next decade
productivity boost from infrastructure spending could offset this
13% to 17% is the average/median return on invested capital of infrastructure spending according to a meta-analysis of dozens of studies
CBO estimates inflation-adjusted borrowing costs of 0.4% or less
vs 11% to 15% inflation-adjusted returns on investment for infrastructure
infrastructure spending, unless complete squandered on non-productive projects, is effectively self-funding
the more infrastructure you invest in, the lower debt/GDP will be in the future
So what does this mean for your portfolio?