4 Things You Need to Know About Rising Interest Rates and Your Portfolio: Part 2
---
4 Things You Need to Know About Rising Interest Rates and Your Portfolio: Part 2
In part one of this series, I explained how rising inflation concerns have sent interest rates rocking higher, and causing some former Wall Street darlings to start declining at an accelerating rate.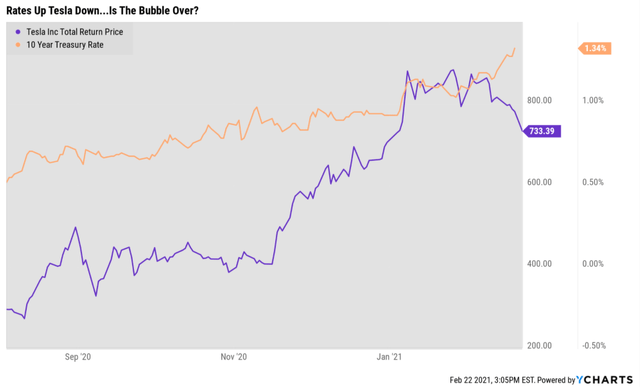 As I write this on February 22nd, the S&P 500 is down for a 5th straight day.
Tesla fell 4% last week and is down 5% today alone. Apple, and many other popular tech stocks, are suddenly deeply out of favor, as sentiment turns from greed to fear.
But guess what, it's simply not true that investors need to fear rising rates. Only speculators do.
Fact 3: Prudent Long-Term Investors Need Never Worry About Inflation And Interest Rates 
The reason it's so dangerous to talk about stocks as "bond alternatives" is that bonds, other than producing income, are nothing like stocks.
bond values are 100% a function of interest rates
set by the bond market based on long-term inflation expectations
a thriving economy can indeed be bad for bonds
In contrast, a roaring economy is seldom bad for stocks.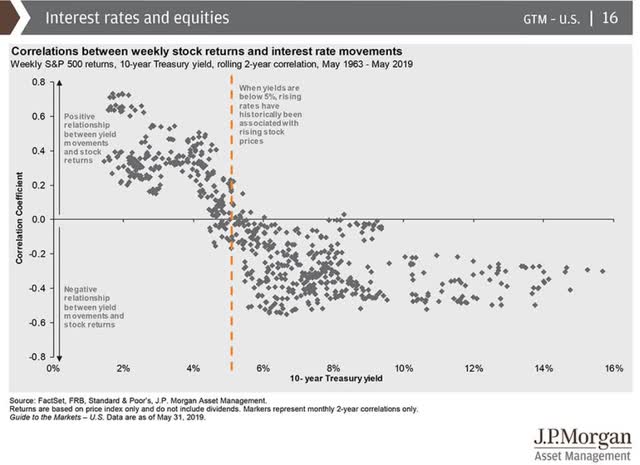 As long as 10-year yields are under 5%, historically rising interest rates are GOOD for stocks, not bad.
As long as interest rates don't rise too quickly (Goldman estimates 37 bp per month) rising rates are good for stocks.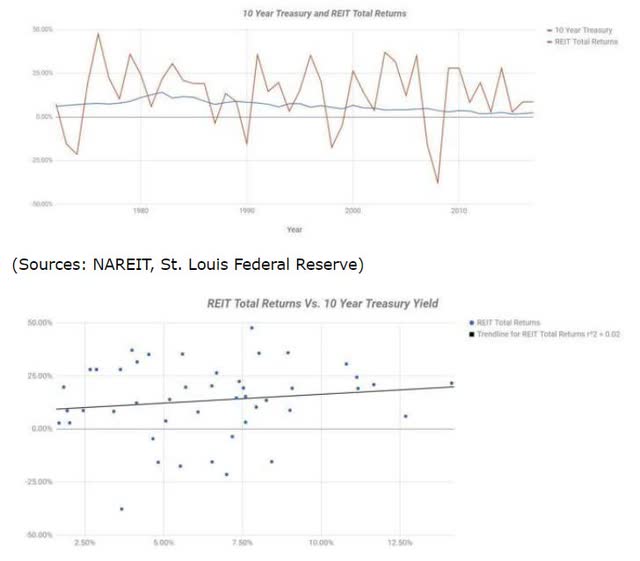 Similarly, REITs, the most "bond-like alternative" actually do slightly better with rising rates, though basically is no significant long-term correlation between REIT total returns and 10-year yields.
insanely valued hyper-growth stocks can indeed be gutted
while undervalued slower-growing value stocks are expected to do particularly well
DK has been preparing for this since we began the Phoenix strategy
the rise in long-term interest rates is what analysts said was most likely to bring about the end of the value bear market
Some tech stocks will crash (hello Tesla).
The names we've been accumulating are not likely to go off a cliff.
hyper-growth at a reasonable price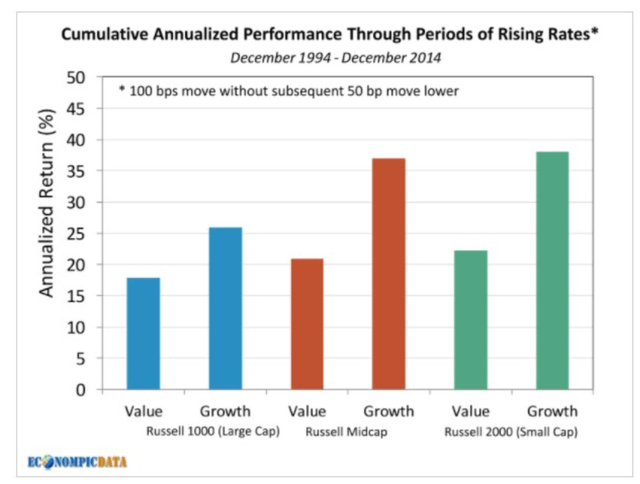 In fact, during the modern era of the last 25 years, rising interest rates are actually good for all stocks. Big, small, growth, value, it doesn't matter. Positive fundamentals, such as a thriving economy generating stronger inflation are good for stocks.
Rising Rates Are Bad For Overvalued Hyper-Growth
| | | | | | |
| --- | --- | --- | --- | --- | --- |
| Growth Rate | Fair Value Multiple (3.1% discount rate) | Fair Value Multiple (4% discount rate) | Fair Value Multiple (8% discount rate) | Fair Value Multiple (12% discount rate) | Fair Value Multiple (22% discount rate) |
| 5% | 1,133.75 | 113.2 | 22.5 | 12.4 | 5.82 |
| 15% | 1,785.44 | 177.1 | 34.3 | 18.5 | 8.24 |
| 25% | 2,707.57 | 267.3 | 50.7 | 26.9 | 11.5 |
| 50% | 6,731.94 | 660 | 121.4 | 62.4 | 24.93 |
| 100% | 28,348.60 | 2761.8 | 493.8 | 246.8 | 91.98 |
| Ratio Of 100/5 Growth Multiples | 25.00427784 | 24.3975265 | 21.94666667 | 19.90322581 | 15.80412371 |
(Source: Moneychimp)
22% discount rate = similar to what market offered when 10-year yield was 18% in 1981
3.1% discount rate is hypothetical if 10-year yields were -0.7%
Of course, if you pay absurd valuations for your companies, then even very fast-growth can result in catastrophic losses.
The more extreme low rates get, the larger the impact becomes, but especially for fast-growing companies.
the value of future cash flow can approach infinity if the discount rate approaches zero.
justifying literally any price
as long as interest rates never go up…at all…ever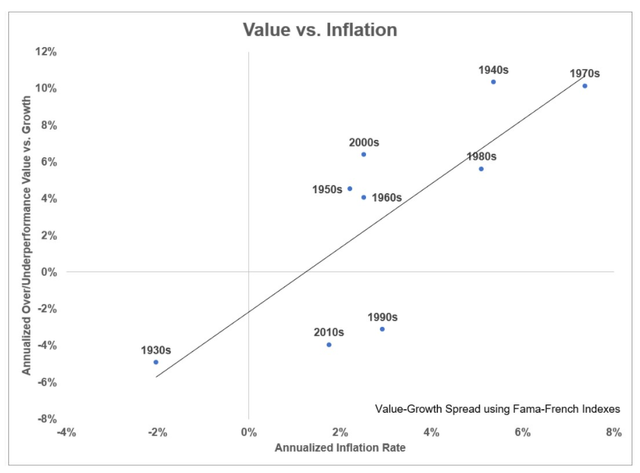 (Source: Ben Carlson)
Historically value tends to do better than growth over time. But especially during periods of higher inflation.
Why?
higher inflation = higher interest rates
higher discount rates
current growth = more valuable relative to growth many years into the future
because higher inflation makes the cash flow and profits of the future worth less today
However, all of these concepts are hiding the most important fact of all.