The Simplest Asset to Hedge Against Inflation
---
By Ben Carlson
Inflation expectations continue to shoot ever higher: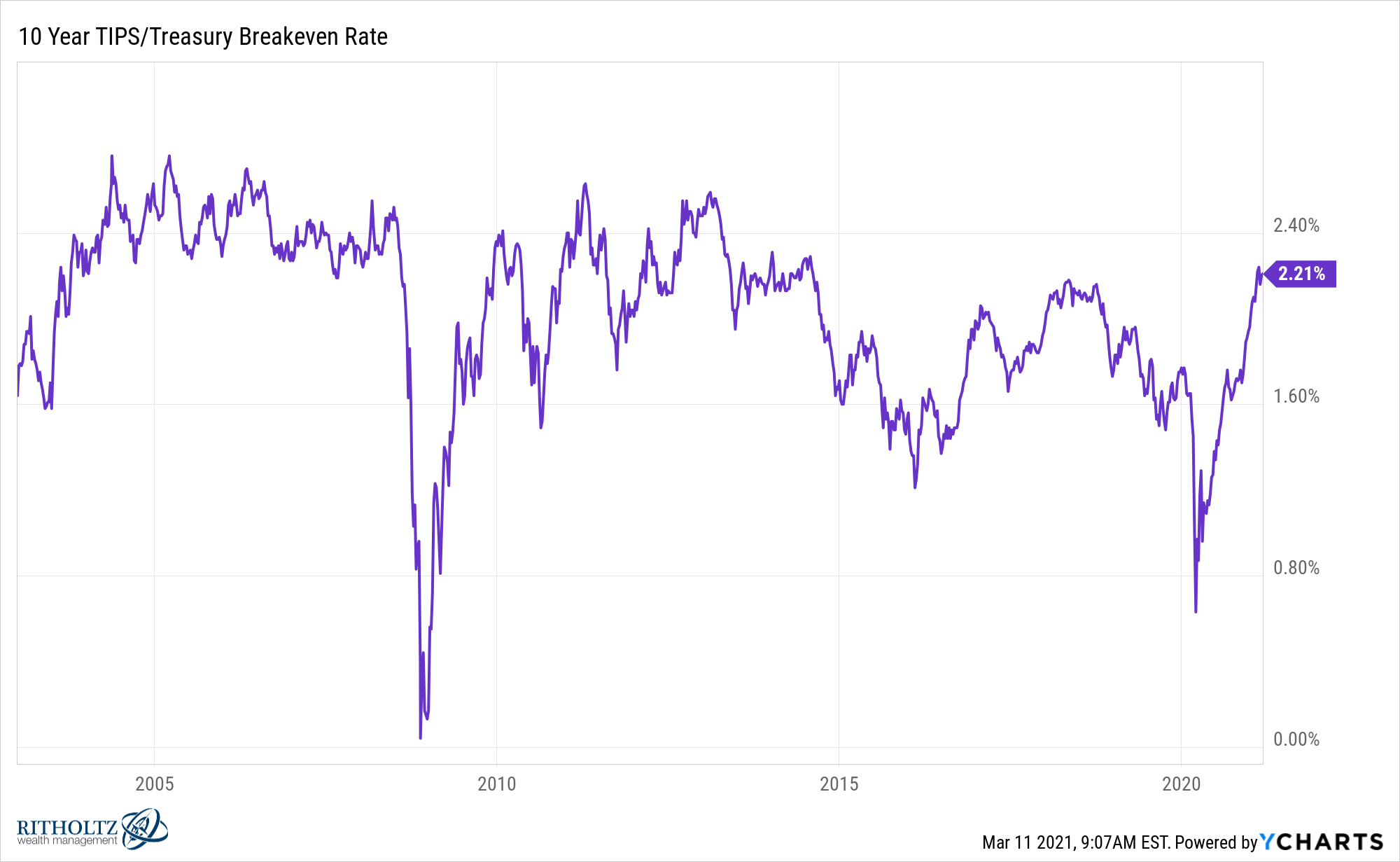 I don't know if we'll finally see the inflation risk people have been worrying about since 2008 but it's certainly a risk investors are more concerned about than they have been in some time.
Inflation is always something you need to worry about as an investor because the whole point of investing your money is to keep up with or outpace the rising standard of living.
The stock market is a wonderful hedge against inflation for a few reasons.
Since 1928, the U.S. stock market is up 9.8% per year while inflation has averaged 3% per year. So stocks have grown at nearly 7% more than the rate of inflation.
One of the reasons for this is the fact that earnings and dividends also grow at a healthy clip above inflation. Over the past 93 years, earnings have grown at roughly 5% per year. Stocks also have perhaps the greatest income stream of any asset. Dividends have grown at roughly 5% per year.
So earnings and dividends both have a history of growing above the rate of inflation.
It is true that the overall stock market has historically shown lower than average returns in an elevated inflationary scenario but there are certain areas of the market that have done better in those times.
Value stocks tend to perform better than growth stocks when inflation rears its ugly head.
Precious metals & mining stocks have a history of low returns with enormous volatility. But under a highly inflationary environment, they tend to shine.1
Treasury Inflation-Protected Securities (TIPS) are one of the only true real assets available in that the principal amount on these government bonds goes up with the rate of inflation. It is worth noting, however, TIPS would only provide a huge boost to your portfolio with unexpected inflation. Expected inflation is already baked into the current yields.
Then there is gold but gold may not be the inflation hedge you think it is. It's possible the massive repricing of gold that occurred in the 1970s when Nixon ended the convertibility of dollars into gold made people believe gold was an inflation hedge. But gold tends to simply march to its own drummer. Sometimes it works under deflationary crashes as well.
So stocks are still your best bet for beating inflation over the long-term and TIPS can help with unexpected inflation but there is another asset many people overlook in terms of hedging out inflation in the short-run — cash and short duration fixed income.
There are two reasons for this.