What Investors Need to Know About the 4th Wave of the Pandemic: Part 2
---
In part 1 of this series, we explored why another big wave of the virus was likely, possibly even hammering the US one final time before the American epidemic finally ends.
Of course, just because the US suffering will likely be over by July, doesn't mean that the virus won't keep delivering drama for another year or two.
In part one we saw why it's likely to be until 2023 before the pandemic is over globally. But in this conclusion, I wanted to cover the two most important facts of all about the potential 4th wave of the corona virus.
That includes the effects on the stock market and your portfolio.
Fact 3: The Human Toll Won't Be As Bad In A 4th Wave Of The Virus
IHME's latest estimate is that by July 1st almost 4 million people will have died from COVID-19.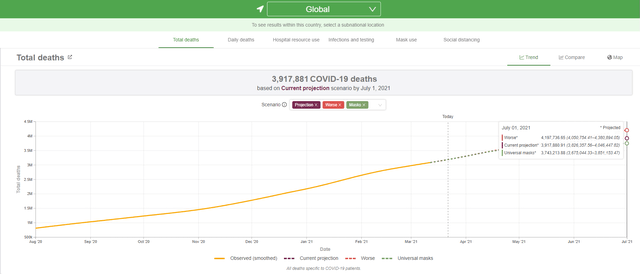 (Source: IHME)
base-case nearly 4 million dead by July 1st
the global pandemic is far from over
likely this will be the deadliest pandemic in over 100 years
surpassing the Honk Kong Flu's 5.5 million dead
on a per capita basis, it won't be as bad but the human toll will be larger
However, the good news is that as horrible as the deaths have been so far, and we'll get more in the coming year or two, even a sharp spike in cases isn't likely to cause a tsunami of deaths as it once threatened to.
Let's consider the IHME's model for the US.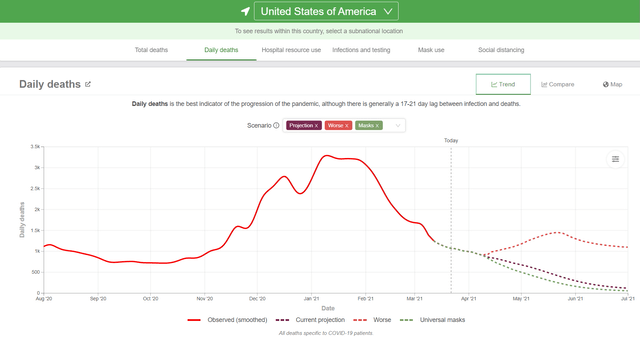 (Source: IHME)
IHME estimates the worst-case scenario is 1,800 daily deaths by May 21st if B-117 really takes off in the US
base-case deaths continue to drift lower
no mega-spike in deaths is likely because the most at risk of death are already mostly protected
Thanks to 66% of seniors now being vaccinated, even if daily cases were to spike to over 200K per day, more than tripling from here, the rise in deaths wouldn't be anywhere close to the 5K we saw in late January.
The vaccines aren't 100% effective, but they are almost 100% effective at preventing serious disease and mortality.
Every day we vaccine another 2.5 million people and thus reduce the risks of a major spike in mortality from a 4th wave.
Globally it's going to be tougher. The reality of vaccine development and distribution is that more people are going to die than was necessary.
theoretically, we'd vaccinate the highest risk around the world before moving onto lower risk people
which means the pandemic would end at the same time in 2023 in all countries
obviously rich countries aren't willing to wait 3 more years, understandably so
In the bigger context, as bad as this pandemic has been, and could still become, it's remarkable how few people are actually likely to die.
the 1918 Spanish flu killed 5% of humanity
which would be about 400 million people today
MIT estimates that 3.3 million Americans could have died
600K is a tragic number, but less than 20% of the worst-case scenario
So does this mean that stocks are poised for the best year ever thanks to robust economic boom times?
Not necessarily.