How Smart Investors Profit From Inflation
---
In part 1 of this series, we saw why even periods of high inflation aren't necessarily bad for stocks. In fact, the worst inflationary period in US history actually saw stocks deliver positive real returns (despite three bear markets) and REITs blew the cover off the ball with 7% real returns.
In part two of this series, we'll explore why stocks are historically the best inflation hedge and what kinds of companies, in particular, tend to do especially well during periods of high inflation.
Why Stocks Are Historically The Best Hedge Against Inflation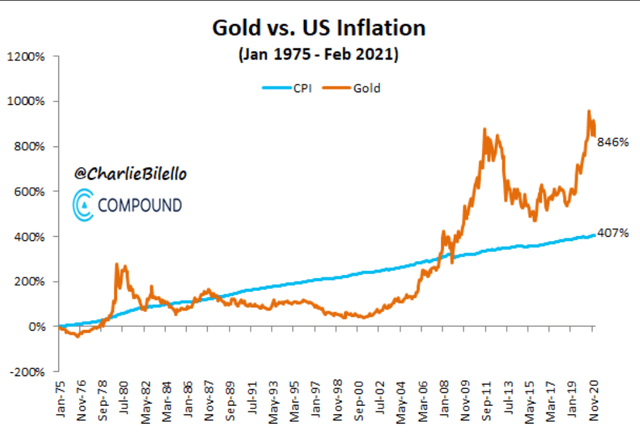 Many investors assume that Gold is the best inflation hedge. That might seem intuitive, but it's not actually true.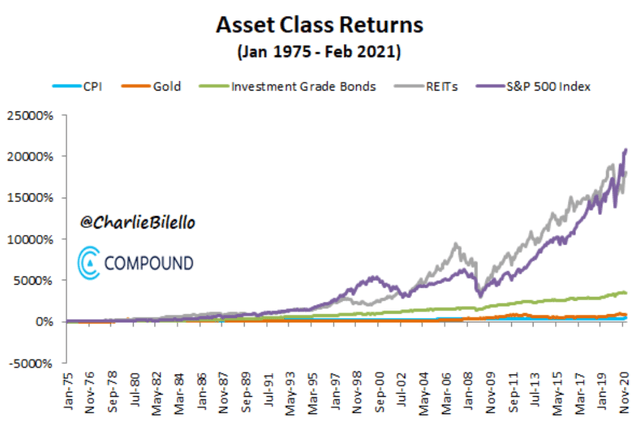 Actually compared to even government bonds gold has vastly underperformed.
And guess what has done the best? Stocks and REITs just as saw in part one of this series.

(Source: Charlie Bilello)
Adjusted for inflation, gold has delivered 1.4% annual long-term returns, about 1/3 that of bonds, and more than 6X less than stocks.
The reason for this is that gold is a commodity. It generates no income, and thus there is no reason to believe that its price will naturally rise over time.
If gold prices rise quickly, miners increase supply and the prices stabilize or decline.
In contrast stocks, including REITs, are living companies, run by adaptable management. When anything bad happens management does what it has to preserve margins, including raising prices to offset inflation.
This is why REITs did so well in the 1970s. Which brings us to the question many investors have, what are the best stocks to own in inflationary environments?
The Stocks That Do Best During Inflationary Times