3 Things You Need to Know About This Historic Earnings Season
---
Every earnings season is important but this one especially so.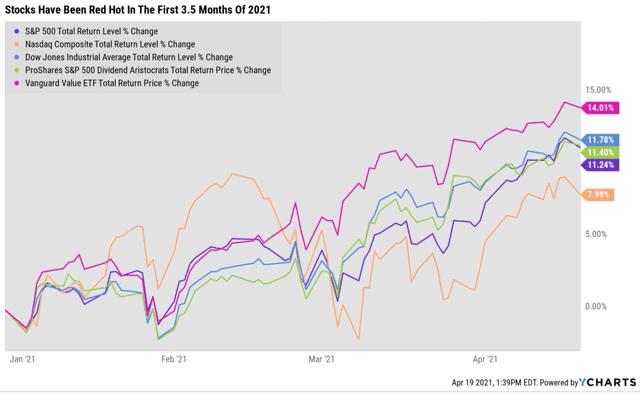 At the start of the year, JPMorgan predicted the S&P 500 could rally as much as 25% in 2021. Goldman predicted it would take 2 years for the market to go up 25% after an 18% rally in 2020.
That rally, by the way, was after a 30% rally in 2019, which followed the single worst year for stocks in a decade, a modest 4% decline.
Basically, stocks have been on a tear for many years. And yet, so far, even the lowly Nasdaq, is on track to surpass JPMorgan's bullish forecast at the start of the year.
Most other indexes are on track for 30% to 40% or even greater 2021s.
Of course, that assumes that the pandemic recovery, the strongest economy in 36 years, and monster earnings growth all show up as planned.
So here are the three most important facts you need to know about this historic earnings season. One that could determine whether Wall Street falls out of bed, or has the best year in over three decades.
Fact 1: Q1 Earnings Season Is Off To A Great Start
For Q1 2021 (with 9% of the companies in the S&P 500 reporting actual results), 81% of S&P 500 companies have reported a positive EPS surprise and 84% of S&P 500 companies have reported a positive revenue surprise. " – FactSet Research
In most quarters analysts hack away at earnings expectations in the final weeks before earnings season begins. This is why 73% of companies historically beat expectations by modest 3% to 5% amounts.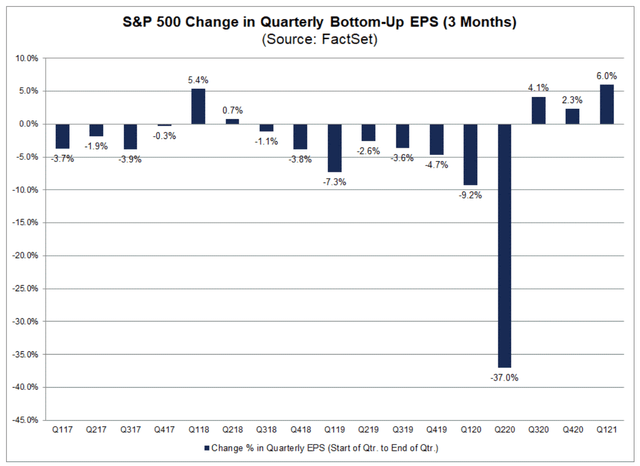 Basically, analysts use management guidance to estimate growth that's relatively accurate, then cut that outlook right before management delivers the previously expected growth.
And just like that Wall Street is awash in companies beating on the top and bottom line. Management looks smart, investors usually see stock prices go up, and everyone is happy.
But this pandemic is unique. Just as tax cuts in 2017 caused earnings expectations to keep rising for six months, the end of the pandemic, combined with $6 trillion (and counting) in fiscal stimulus, has analysts racing to hike EPS growth expectations for several months now.
FactSet reports we're on track for +30.2% EPS growth, the strongest in a decade.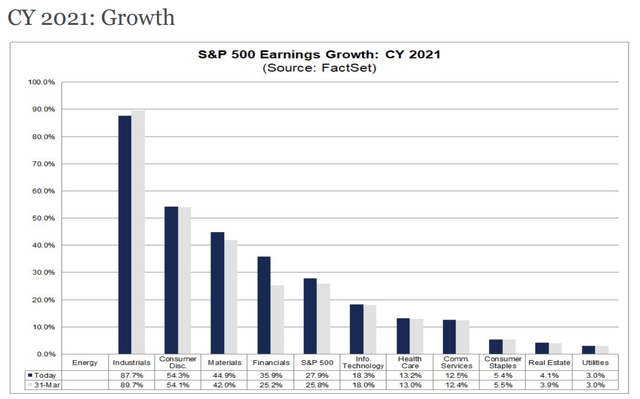 The hardest-hit sectors of the pandemic are the earnings growth superstars of 2021.
But as great as a single year of fantastic growth is, the news gets even better. Analysts aren't just expecting a massive earnings boom in 2021, but also in 2022, 2023, and possibly beyond.
Fact 2: This Is Expected To Be Just The Start Of An Earnings Growth Super Cycle