How Worried Should Investors Be About Tax Hikes?
---
Last week the market briefly sold off in minutes, following news that the Biden administration was proposing doubling the long-term capital gains rate for those making over $1 million.
The market recovered quickly, and soon was making new record highs again.
However, with the S&P 500, and other major indexes, off to a roaring start in 2021, many investors are worried that valuations have become extreme.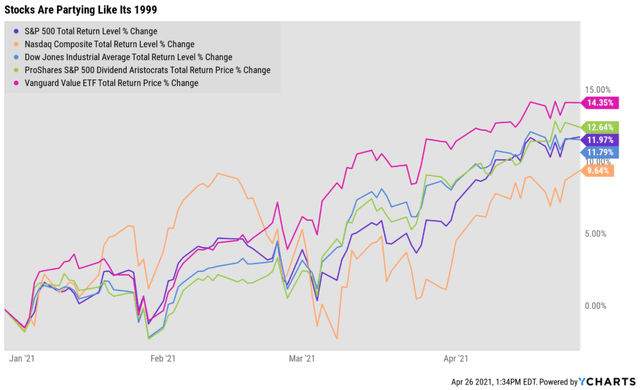 The nature of overvalued markets and corrections is that it doesn't take much to flip the market from greed to fear.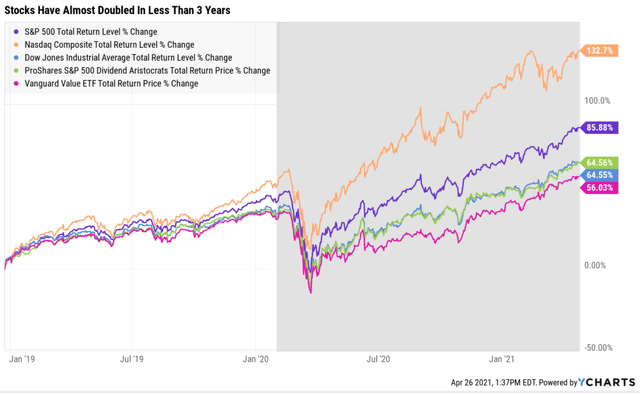 With the S&P 500 now on a heck of a winning streak, up almost 100% since December 2018. The tech-heavy Nasdaq is up 133% in that time.
So let's take a look at what investors need to know about how big of a threat rising taxes might pose to a market that's priced for perfection.
Tax Proposals Aren't As Scary As They Seem
First, it's important to know what the proposed tax hikes actually are.
Biden administration proposes raising the corporate rate from 21% to 28% for 15 years
the income tax rate on those making over $400K per year would rise from 37% to 39.6%
the long-term capital gains rate would rise from 23.6% to 43.6% for those making over $1 million per year
the step-up provision would be eliminated
0.3% of Americans make over $1 million per year, so for almost everyone our long-term capital gains rates would be unaffected.
The corporate rate rising to 28% would indeed reduce earnings considerably however, Goldman Sachs has been using a 25% corporate rate as its base case for almost two years now.
Joe Manchin, the kingmaker conservative Democratic Senator from West Virginia has said that he's comfortable with 25% but not 28%.
The size of the proposed infrastructure bill, $2.3 trillion over eight years, naturally means this is going to be complicated and involve many months of negotiations.
Manchin has thus far made some rather contradictory statements regarding what he will and will not vote for.
up to a $4 trillion bill but it must be paid for 100% by tax increases
Manchin says he refuses to allow this bill to not include at least 10 GOP Senators (no reconciliation)
GOP has said that large tax hikes are their red line in the sand
It appears that both sides want an infrastructure bill and Manchin most of all. The $570 billion GOP counter-proposal is expected to be a starting point for negotiations.
Republican Lindsey Graham has said that some in his caucus have indicated that up to $900 billion is what Republicans might be willing to vote for. Of course, that depends on what the tax increases actually look like.