The 6 Secrets To Getting Rich On Wall Street
---
It's been an odd recession, to say the least. If you had told people that the worst pandemic in over a century was going to lead to the worst recession in 75 years, most people would have assumed the S&P was going to crater.
Initially, it did, falling 34% in three weeks, the fastest bear market in history.
But we've also seen record fiscal and monetary stimulus, including three rounds of stimulus checks totaling $3,200 for most Americans.
With interest rates hitting record lows, and commission-free trading now standard, we've seen speculative bubbles inflate to boggle the mind.
Consider this. Dogecoin was a joke, a literal parody of Bitcoin and Ethereum.
It was designed with no utility, and yet had you invested all of your stimulus money into this joke cryptocurrency, you'd have recently peaked at about $500,000.
A lifetime of investing returns, in about 18 months.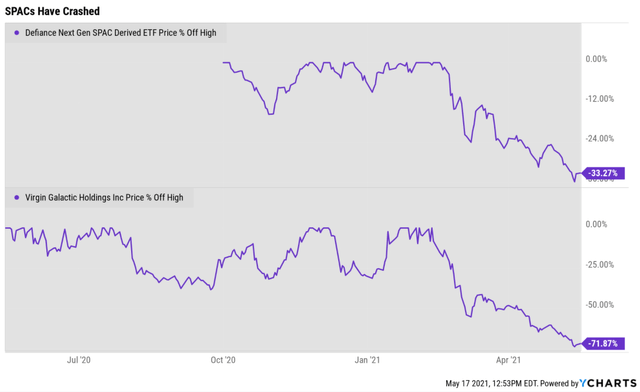 SPACs were red hot until recently. In fact, they were IPOing at 6 per day! Wall Street couldn't get enough of them, until they crashed 33% with some, like Virgin Galactic (SPCE) falling 70% in a matter of weeks.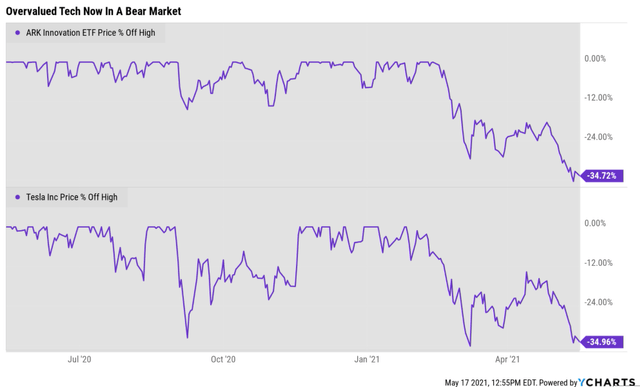 Cathy Wood's ARK Innovation ETF (ARKK) soared over 150% in 2020, mainly driven by a 700% rally in Tesla (TSLA).
Not surprisingly, when you pay 76X forward earnings you're asking for big crashes in the future. Tesla is even more overvalued but both ARKK and TSLA are now in bear markets, down about 35% off record highs.
Getting rich on Wall Street isn't hard. The greatest investors in history have cracked the code of financial science, and even told us all what that code is.
Greatest Investors In History: Masters Of Financial Science 
| | | | |
| --- | --- | --- | --- |
| Name | Returns | Time Horizon | Most Famous For |
| Jim Simmons (Co-Founder Renaissance Technologies) | 71.8% CAGR | 1994 to 2014 (best investing record ever recorded) | Pure Quant Based Investing |
| Joel Greenblatt | 40% CAGR | 21 years at Gotham Capital | "Above-Average Quality Companies At Below-Average Prices" |
| George Soros | 32% CAGR | 31 years | Valuation mean reversion, "Reflexivity" = Opportunities can be found by carefully studying the value and the market prices of assets |
| Peter Lynch | 29.2% CAGR at Fidelity's Magellan Fund | 1977 to 1990 (13 years) | "Growth At A Reasonable Price" |
| Bill Miller (Legg Mason Value Trust 1990 to 2006) | 22.8% CAGR and beat the S&P 500 for 15 consecutive years | 16 years | |
| Warren Buffett | 20.8% CAGR at Berkshire | 55 Years | Greedy when others are fearful |
| Benjamin Graham | 20% CAGR vs 12% S&P 500 | 1934 to 1956 (22 years) | Margin of Safety |
| Edward Thorp | 20+% CAGR | over 30 years | invented card counting, pure statistically-based investing |
| Charlie Munger | 19.80% | 1962 to 1975 | Wonderful companies at fair prices |
| Howard Marks | 19% CAGR | Since 1995 | Valuation Mean Reversion |
| Anne Scheiber | 18.3% CAGR | 50 years | Turned $5K into $22 million with no formal training, purely with tax-efficient buy and hold blue-chip investing. |
| John Templeton | 300% from 1939 to 1943, 15.8% CAGR from 1954 to 1992 | 38 years | Market Cycles |
| Carl Icahn | 14.6% CAGR vs 5.6% S&P 500 | 2001 to 2016 (15 Years) | |
| David Swenson | 13.9% CAGR at Yale's Endowment (includes bonds and alternative assets) vs 10.7% S&P 500 | 30 years | Alternative Asset Allocation |
| Larry Puglia | 12.1% CAGR vs 10.2% CAGR S&P 500 | 28 years running TROW's flagship blue-chip fund | Pure blue-chip/wide moat focus. |
| Geraldine Weiss | 11.2% vs 9.8% S&P 500 | 37 years | Best risk-adjusted track record of any newsletter over 30 years according to Hubbert Financial Digest, popularized dividend yield theory (the only strategy she employed) |
In this multi-week series, I'll outline the six secrets to getting and staying rich on Wall Street.
These six principles have made the greatest investors in history tens of billions in profits and made them legends.
Fortunately, each one of these secrets is something that is easily replicated by ordinary investors seeking extraordinary returns.
If you're tired of praying for luck on Wall Street and want to start making your own, here is the first secret to success that you need to apply to your portfolio.
Secret 1: The Most Important Secret To Long-Term Investing Success
The most important secret to investing success is also the most boring.
Dividend Sensei Risk Management Guidelines
Always begin with proper asset allocation (with annual rebalancing) meaning owning enough bonds/cash equivalents to avoid becoming a forced seller for emotional or financial reasons during market downturns
Own a diversified portfolio of 15 to 60 companies in 9 to 11 sectors, and use ETF/mutual funds to target sectors/asset classes you're not experienced with (such as bonds)
Limit individual holds to 1% to 7% of your portfolio depending on quality and risk profile
1% or less for very speculative companies (such as Fallen Angels like Boeing)
2.5% or less for 7/12 average quality companies or speculative companies (regardless of quality)
5% or less for 8/12 above-average quality companies
7% or less for 9+/12 blue-chip, SWAN, Super SWAN, or Ultra SWAN quality companies
Risk cap recommendations are for % of long-term invested capital
You can overweight high conviction companies as long as you can eventually dilute the investment to your targeted risk cap
Limit industry exposure to 5% to 10% or less of your invested capital
Limit sector exposure to 10% to 20% or less of your invested capital
These are the risk-management guidelines that
I've been perfecting over seven years
with input from colleagues with over 100 years of asset management experience
that have been stress-tested about 300 times
using historical market data
and JPMorgan's future risk assessment scenarios
and 30 and 75 year Monte Carlo simulations
all Dividend Kings portfolios use these risk-management guidelines
100% of my life savings is entrusted to these guidelines
whatever risk-management rules are best for your specific needs stick with them
Risk management is the difference between getting and staying rich on Wall Street.
Think of it this way. In blackjack, you double your money every time you win a hand. If you hit blackjack you multiply your money 2.5X.
Imagine you get on a winning streak. You win five hands in a row and double down every time. In just a few minutes, you could be up 32X or more.
If you win 10 hands in a row, which occurs about 1 in every 1,000 hands, and assuming no table limits on bet sizes, you could have about 1,000X your money, in just a few minutes.
Sounds wonderful, doesn't it. But of course, no winning streak lasts forever. The moment you lose, which is inevitable, you wind up zero. You'll experience a lifetime of regret knowing you turned $10 into $10K and then left with nothing.
The stock market is just like a casino. It's a world of probabilities and statistics, where anything can happen in the short term. That includes insane rallies in even low-quality companies.
Hertz went up 600% in the two weeks AFTER it filed for bankruptcy
But in the long-term math always determines the outcome, and in this case, that means the fundamentals.
The reason portfolio risk management is so critical is because the stock market is guaranteed to see lots of corrections and even the occasional bear market.

(Source: Guggenheim Partners, Ned Davis Research)
Since 2009 and 1945 we've averaged a 5+% market downturn every six months. The causes were always different, but the results were always the same.
A sharp sudden decline caused many people to sell at a loss, right before a relatively fast recovery to new record highs.
Tables like this are useful for context, but downturns rarely arrive on schedule.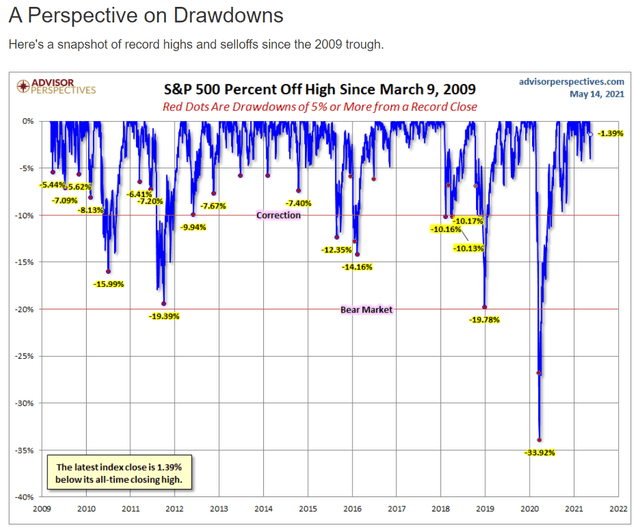 (Source: Jill Mislinki)
This is what completely normal market volatility looks like. Even the 34% crash in the market during the early days of the pandemic was merely the average bear market, it just happened 12X faster (and the recovery was 5X as fast).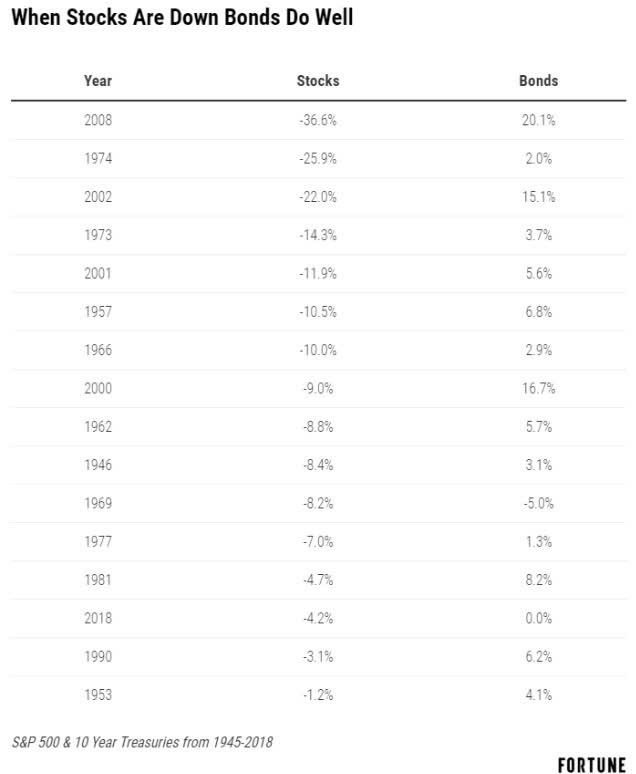 A Bad Day For Stocks Is A Bad Year For Bonds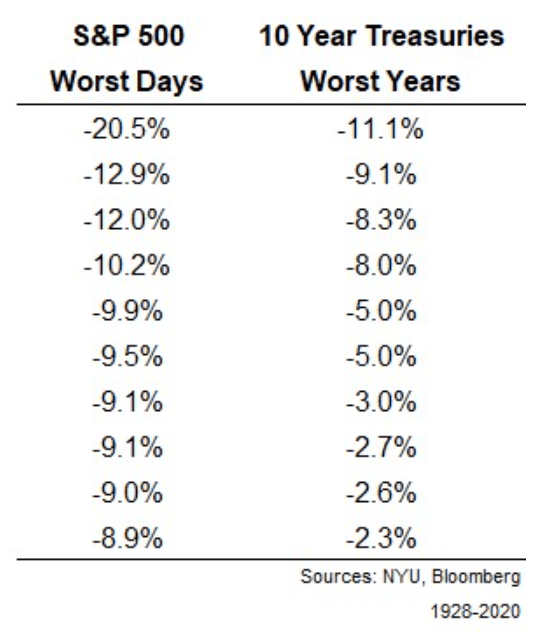 (Source: Ben Carlson)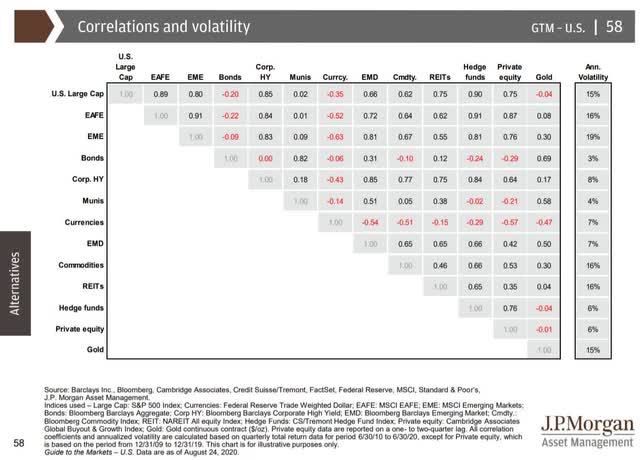 Bonds are the least volatile asset class in history. And cash and bonds will likely always serve an important role for most investors.
"Think about bonds in terms of protection, not yield. The stock market becomes more important when rates are on the floor but that doesn't mean you can forsake bonds or cash altogether.

Most investors think about bonds in terms of yield or income. And why shouldn't they? The vast majority of returns in bonds over time come from the starting yield, not price appreciation.

In a negative interest rate world, you have to change the way you think about bonds. Bonds have always acted as a shock absorber to stock market declines but this becomes even more important when the yield is more or less taken out of the equation.

Bonds can provide dry powder to rebalance into the stock market or pay for current expenses when the stock market inevitably goes through a nasty downturn. Bonds keep you in business even if they don't provide high returns as they have in the past." – Ben Carlson (emphasis original)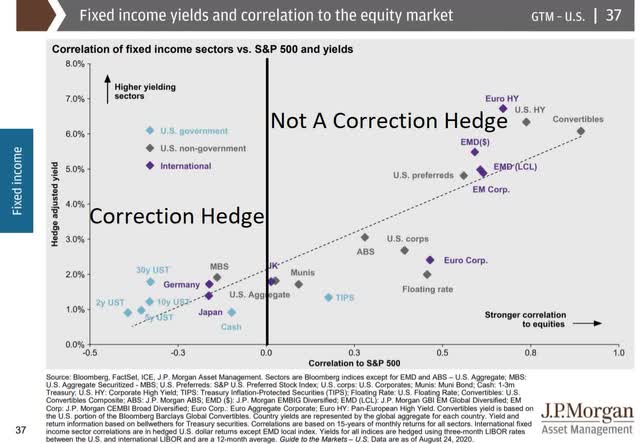 Not all bonds are created equal.
in March 2020 corporate bonds fell 20%
default risk-free sovereign bonds are the ones that are negatively correlated to stocks
A study from Duke found that Treasuries are the best passive hedging approach over the last 35 years.
matched gold, puts, and credit default swaps for positive returns in bear markets
but delivered the best positive returns across the economic cycle
86% of the time the US economy is growing
while record low-interest rates mean future hedging power of bonds may be lower, the best available data says that Treasuries are still the best low-risk way to hedge against corrections and bear markets during retirement
The single best hedge against falling stocks is actually Treasury bonds.
That doesn't mean that every downturn will see bonds go up. In fact, if inflation expectations rise and cause yields to rise, then bonds will fall at the same time as stocks.
This is what happens 8% of the time, historically speaking.
The only reason to worry about short-term volatility is that no matter how reasonable and prudent your strategy is if you panic and sell in a downturn, you will fail.
On the other hand, if you use appropriate risk management for your specific risk profile, then even a 34% 3-week plunge in the market won't cause you to make a costly mistake.
Today the Dividend Kings $1 Million Retirement Portfolio is 80% stocks/preferred shares and 20% cash. Normally we're 30% bonds and cash but during the strongest economy in almost 40 years, rising long-term rates are likely to cause bonds to not work as a hedge.
Eventually, rates will normalize, at 2% to 3% according got the blue-chip economist consensus. That's similar to the 2.4% average yield of the 2010s.
It's no fun being 20% cash and earning nothing on those assets. But you know what's even less fun? Becoming a forced seller for emotional or financial reasons during a completely normal and healthy market correction.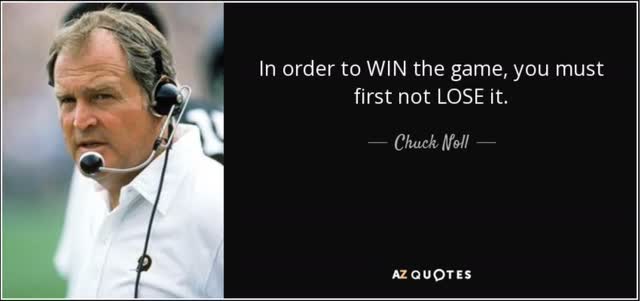 If you fail to plan for a normal market downturn, you plan to fail during a future market downturn.
But if you know yourself and your enemy (normal market downturns) then victory is assured.
If you know the enemy and know yourself, you need not fear the result of a hundred battles. If you know yourself but not the enemy, for every victory gained you will also suffer a defeat. If you know neither the enemy nor yourself, you will succumb in every battle." – Sun Tzu, The Art of War