The 6 Secrets To Getting Rich On Wall Street: Part 2
---
In part one of this series, I explained the single most important secret to getting and staying rich on Wall Street.
In part 2, we're examining the 2nd most important secret to long-term investing success.
Secret #2: Safety
Did you know that that most stocks lose money over time? In fact, since 1926 52% of stocks, including dividends posted negative returns.

According to a study by JPMorgan Asset management 64% of the S&P 500 was removed from the index from 1980 to 2014 due to distress.

40% of 3,000 biggest US companies fell 70+% and never recovered. Even 13% of utilities suffered catastrophic losses.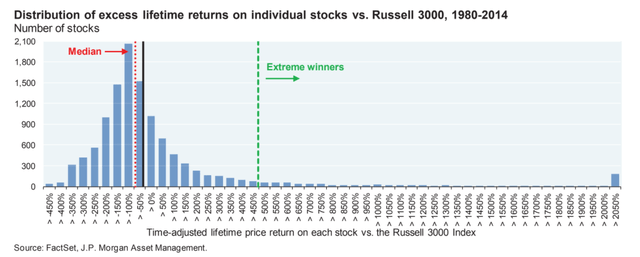 The median stock return for the Russell 3,000 since 1980 was -54%.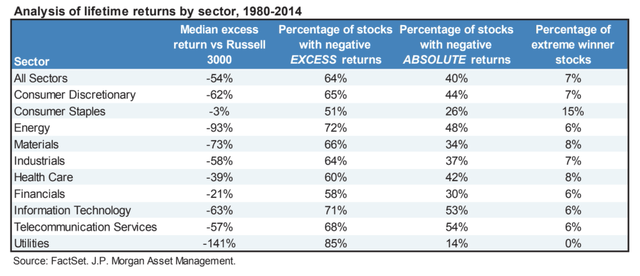 64% of all stocks lose to the market. And 40% delivered negative total returns including dividends.
Do you know what the most common return since 1926 and during the last decade has been? -100%, and 12%, and 11%, respectively of companies over those time frames have wiped out investors entirely.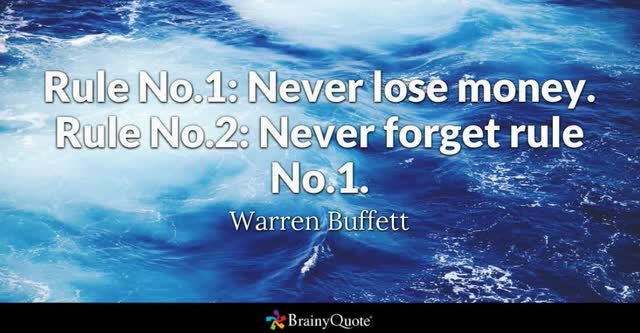 As Buffett pointed out, you can't compound what goes to zero.
But fortunately, there are many ways to find safe companies.
The Easiest Way To Find Safe Companies In Any Market Or Economic Condition
The Dividend Kings overall quality scores factor in 147 fundamental metrics covering
dividend safety
balance sheet strength
short and long-term bankruptcy risk
accounting and corporate fraud risk
profitability and business model
growth consensus estimates
cost of capital
long-term sustainability (ESG scores and trends from MSCI, Morningstar, S&P, FactSet, and Reuters'/Refinitiv)
management quality
dividend friendly corporate culture/income dependability
long-term total returns (a Ben Graham sign of quality)
It actually includes over 1,000 metrics if you count everything factored in by nine rating agencies we use to assess fundamental risk.
Every metric in this safety and quality model was selected based on
decades of empirical data
the experience of the greatest investors in history
nine rating agencies
and what blue-chip economists and analyst firms consider most closely correlated to a company's long-term success.
The DK 500 Master List includes the world's highest quality companies including
all dividend champions
all dividend aristocrats
all dividend kings
all global aristocrats (such as BTI, ENB, and NVS)
all 12/12 Ultra SWANs (as close to perfect quality as exists on Wall Street, think wide moat aristocrats)
How do we know one of the world's most comprehensive safety and quality models works? Why have I entrusted 100% of my savings to this model?
during the Great Recession and Pandemic, 6 predicted Phoenix list dividend cuts
5 actually happened
during the Great Recession, the S&P 500 cut dividends by 25%
Phoenix blue-chip watchlist was flat
During the Pandemic S&P 500 cut dividends 1%
Phoenix watchlist +6%
Our safety model is calibrated for average historical recessions
but is so robust thanks to our focus on overall quality, that our dividend cut predictions were highly accurate even during the 2 worst recession in the last 75 years.
Since March 2020 93% of US stocks are up.
97% of 117 real-money Phoenix blue-chip recommendations are up.
4 are down (3 of those Chinese tech stocks).
11 are up 100% or more
the greatest investors in history have 60% to 80% success rates over decades
I'm confident we can achieve that long-term success range with the DK Phoenix strategy
It's not magic, it's disciplined financial science
specifically, the math behind getting and staying rich on Wall Street.