The 6 Secrets To Getting Rich On Wall Street: Part 3
---
In part one of this series, I explained the single most important secret to getting and staying rich on Wall Street.
In part two I showed why the safety of individual companies is the next step in achieving a rich retirement.
Now let's take a look at why quality can make the difference between retiring in comfort, retiring in splendor, or not retiring at all.
Quality: The Single Easiest Way To Get Rich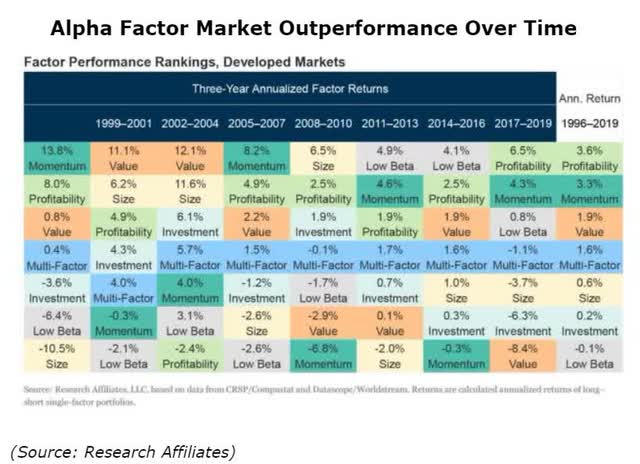 On Wall Street profitability is the proxy for quality, usually returns on invested capital, returns on capital, and free cash flow margins.
While no investment strategy will outperform all of the time, the widest moat and highest quality companies tend to deliver exceptional returns if you buy them at fair value or better and hold for the long-term.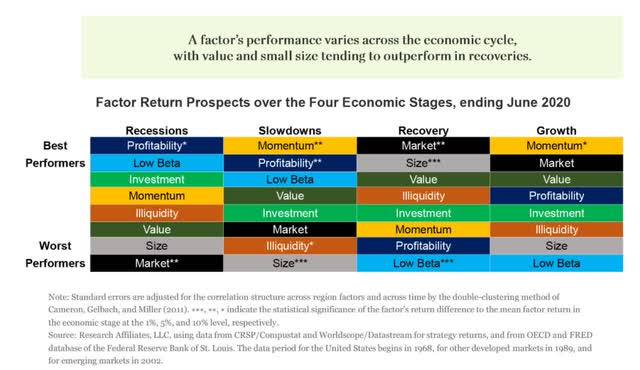 (Source: Research Affiliates)
Where we are in the current economic cycle, potentially creates a great opportunity for buying some of the highest quality companies, at reasonable valuations.
That's because during the recovery phase of the economic cycle rising interest rates can cause fast-growing and highly profitable companies to trade at reasonable valuations.
In other words, high profitability/quality growth stocks can fall out of favor as investors rotate into value stocks.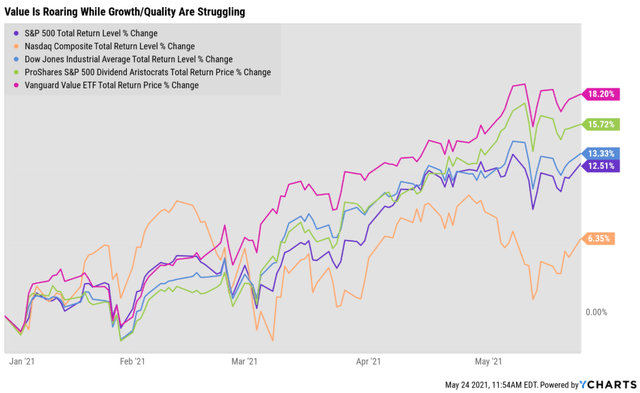 So far in 2021 high profit/fast-growth tech has underperformed while value has rocketed higher.
There are two main ways to go about buying maximum quality companies.
The first is by buying classic Buffett style "wonderful companies at fair prices."
Dividend Kings Safety & Quality Tool: Sorted By Highest Quality

(Source: Dividend Kings Safety & Quality Tool)
blue = potentially reasonable buy
yellow = hold
red = potential trim/sell
Polaris (PII) is currently the highest quality company on the DK 500 Master List that's trading at a reasonable price, meaning a modest discount to fair value.
The DK 500 Master List includes the world's highest quality companies including
all dividend champions
all dividend aristocrats
all dividend kings
all global aristocrats (such as BTI, ENB, and NVS)
all 12/12 Ultra SWANs (as close to perfect quality as exists on Wall Street, think wide moat aristocrats)
What makes Polaris such a potentially wonderful company, other than being in the top 4% of the world's elite companies by quality, is its 19% CAGR hyper-growth consensus from analysts.
Fair value is the price at which you fully participate in a company's future growth, enjoying all the potential upside.
Polaris 2026 Consensus Total Return Potential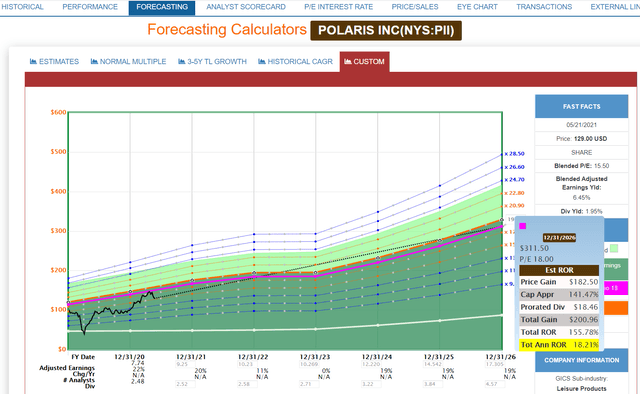 (Source: FAST Graphs, FactSet Research)
If PII grows as expected, then over the next five years, investors could see almost 160% total returns, or 18% CAGR.
S&P 500 2026 Consensus Return Potential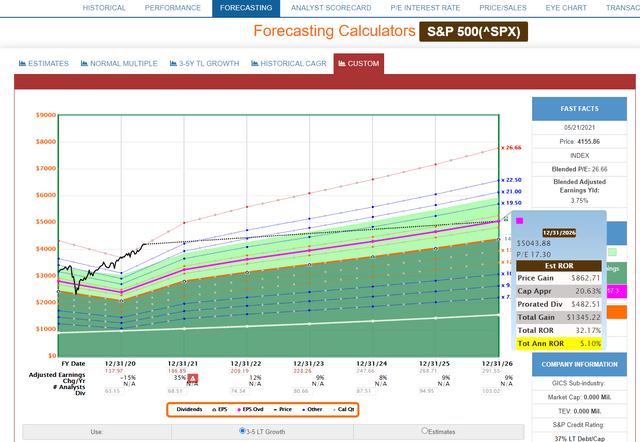 (Source: F.A.S.T Graphs, FactSet Research)
That's almost 4X the consensus return potential of the S&P 500.
PII may not be a bargain, but its valuation is 35% better than the S&P 500, and its expected to grow more than twice as fast over time.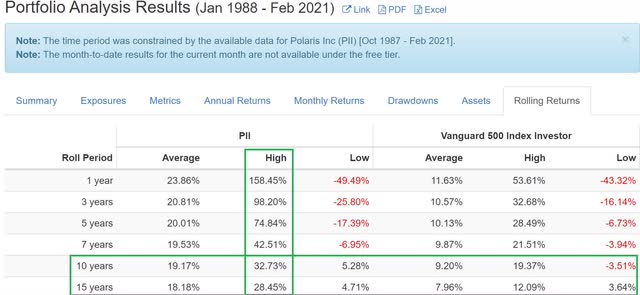 (Source: Portfolio Visualizer)
PII has historically delivered about 18% to 19% returns, and that's what analysts expect in the future as well.
Deep Value Quality: The Best Of Many Worlds
Here is the Dividend Kings' Phoenix Watchlist sorted by highest ROC/PEG ratio.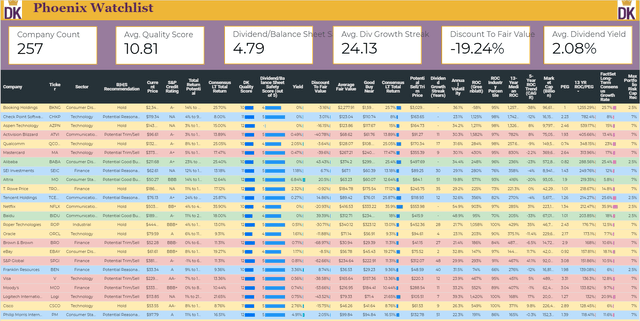 (Source: Dividend Kings Safety & Quality Tool)
green = potentially good buy or better
blue = potentially reasonable buy
yellow = hold
red = potential trim/sell
Joel Greenblatt considered return on capital to be his favorite proxy for overall quality and moatiness.
Peter Lynch considered a PEG ratio of 1 to be "growth at a reasonable price".
Combining historical ROC and PEG creates a single super metric that tells you what companies offer the best mix of quality, value, and growth.
Right now Alibaba (BABA) is the company offering the best ROC/PEG that's a potentially good buy or better.
Its ROC/PEG is 289% and for context, the S&P 500's is 5% and the dividend aristocrats' is 30%.
Alibaba's returns on capital are 356%, compared to 13% for the S&P 500.
Its trading at 21 times forward earnings (vs a historical 30 to 32) and analysts expect 25.4% CAGR long-term growth.
22% to 26% growth consensus range since November 2020 when the regulatory crackdown began
Obviously, Alibaba, as a Chinese tech giant, has a more complex risk profile that not everyone is comfortable with.
But, if you are, then here is what kind of returns you could potentially enjoy over the next five years.
Alibaba 2026 Consensus Total Return Potential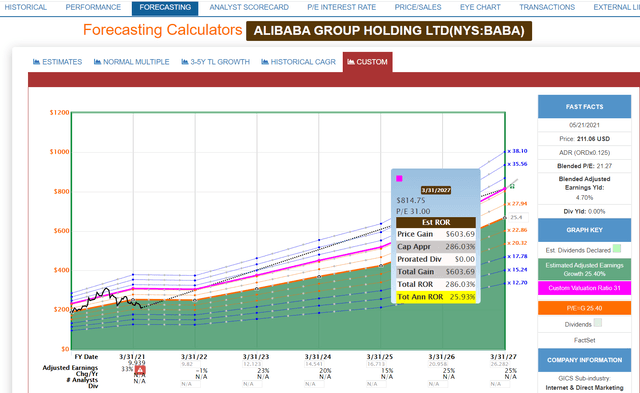 (Source: FAST Graphs, FactSet Research)
If BABA grows as analysts expect (and it almost never misses growth expectations), then investors could almost quadruple their money over the next five years.
That's what happens when you are "greedy when others are fearful" about one of the most dominant and highest quality names in its industry.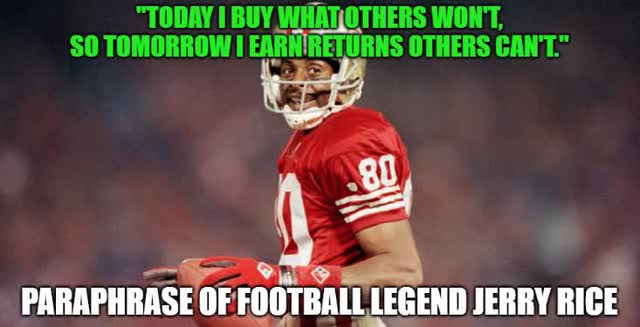 I've personally bought BABA almost 200 times in the last year, investing nearly $90,000 in total.
I can't tell you when the market will finally stop hating BABA irrationally. I can tell you that it eventually will, as long as management continues to execute well as it has every quarter for the past few years.
The longer BABA remains deeply hated by Wall Street, the larger the position you can build. So when it does eventually return to historical market-determined fair value, your profits will be far larger, on both a percentage and absolute basis.