The 6 Secrets To Getting Rich On Wall Street: Part 4
---
In part one of this series, I explained the single most important secret to getting and staying rich on Wall Street.
In part two I showed why the safety of individual companies is the next step in achieving a rich retirement.
In part three, we saw why quality at a reasonable or attractive valuation is the easiest road to riches you can travel.
Now let's take a look at why safe yield is so important to achieving your long-term financial goals.
Secret #4: Safe Yield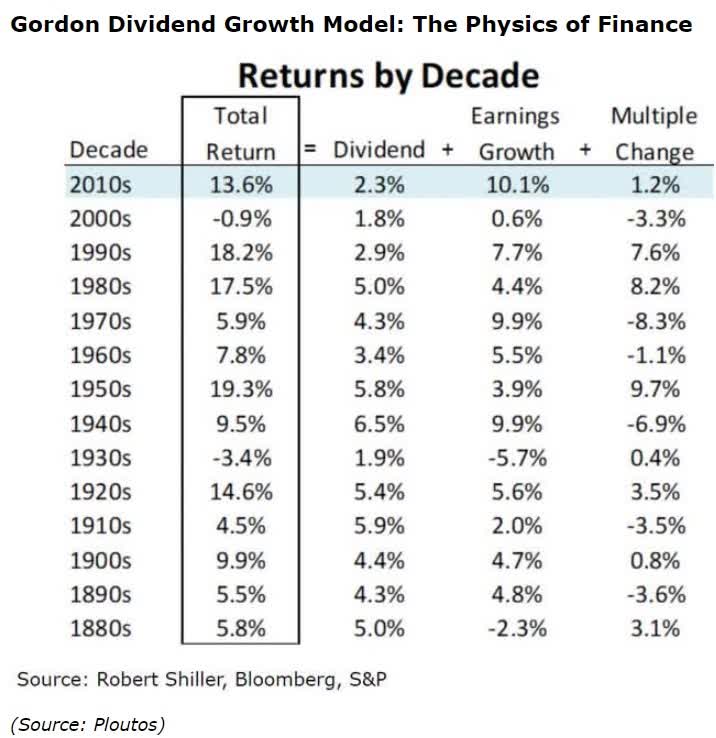 Yield, growth, and valuation are the holy trinity of total returns.
Over time they are the only three fundamental metrics that determine returns.
Risk management, safety, and quality are all ways to protect your nest egg from making costly mistakes over time, such as buying value traps, or panic selling during normal and healthy market corrections.
But yield, growth, and value are what determine whether you retire in comfort, retire in splendor, or don't retire at all.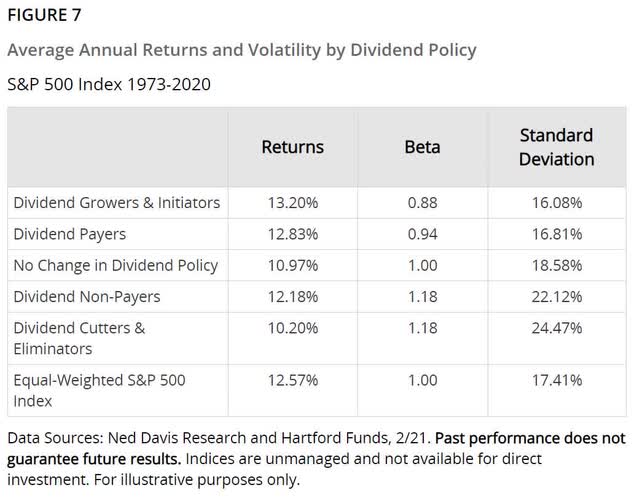 Of course, success on Wall Street is far more complex than merely buying the highest-yielding companies.
From 1973 to 2020 companies that cut their dividends underperformed those that raised their dividends by 3% per year.
over 30 years 3% superior returns = 2.3X the wealth compounding
Dividend cutters are also the most volatile companies over time, meaning those lower returns come with more gut-wrenching downturns and a bigger risk of panic selling at precisely the wrong time.
My motto is "safety and quality first, and prudent valuation and sound risk management always."
The Dividend Kings safety and quality scores factor in 147 fundamental metrics covering
dividend safety
balance sheet strength
short and long-term bankruptcy risk
accounting and corporate fraud risk
profitability and business model
growth consensus estimates
cost of capital
long-term sustainability (ESG scores and trends from MSCI, Morningstar, S&P, FactSet, and Reuters'/Refinitiv)
management quality
dividend friendly corporate culture/income dependability
long-term total returns (a Ben Graham sign of quality)
It actually includes over 1,000 metrics if you count everything factored in by nine rating agencies we use to assess fundamental risk.
Every metric in this safety and quality model was selected based on
decades of empirical data
the experience of the greatest investors in history
nine rating agencies
and what blue-chip economists and analyst firms consider most closely correlated to a company's long-term success.
We use one of the most comprehensive safety and quality models in the world, to create one of the highest quality watchlists on earth.
The DK 500 Master List includes the world's highest quality companies including
all dividend champions
all dividend aristocrats
all dividend kings
all global aristocrats (such as BTI, ENB, and NVS)
all 12/12 Ultra SWANs (as close to perfect quality as exists on Wall Street, think wide moat aristocrats)
| | | | |
| --- | --- | --- | --- |
| Rating | Dividend Kings Safety Score (77 Safety Metric Model) | Approximate Dividend Cut Risk (Average Recession) | Approximate Dividend Cut Risk In Pandemic Level Recession |
| 1 (unsafe) | 0% to 20% | over 4% | 16+% |
| 2 (below- average) | 21% to 40% | over 2% | 8% to 16% |
| 3 (average) | 41% to 60% | 2% | 4% to 8% |
| 4 (safe) | 61% to 80% | 1% | 2% to 4% |
| 5 (very safe) | 81% to 100% | 0.5% | 1% to 2% |
Our dividend safety scores are based on historical dividend cut data going back to 1945 and confirmed during the two worst recessions in 75 years.
During the Great Recession and Pandemic, our safety model predicted six blue-chip dividend cuts on our Phoenix list. In reality, there were five.
This ultimate baptism by fire is why I entrust 100% of my life savings to the Dividend Kings safety and quality scores.
Today low-interest rates have many investors bemoaning the lack of safe yield. It's always a market of stocks, not a stock market, meaning whatever your goals, wonderful companies are always available at attractive valuations if you know where to look.
MPLX 2026 Consensus Total Return Potential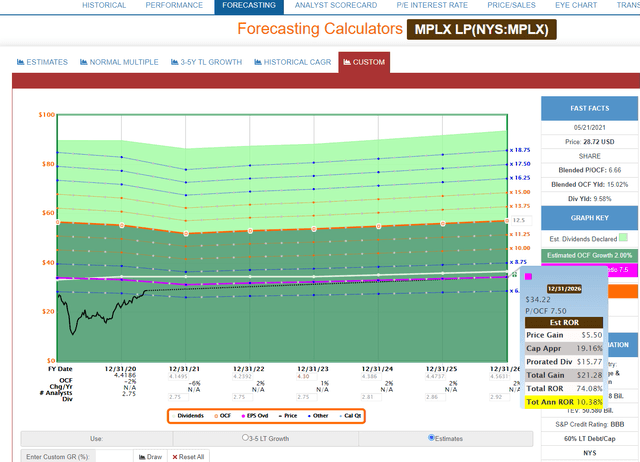 (Source: FAST Graphs, FactSet Research)
MPLX's 9.8% yield is the safest ultra-yield on Wall Street. Despite anemic 2% long-term growth consensus from analysts, it still has more than double the market's consensus return potential.
S&P 500 2026 Consensus Total Return Potential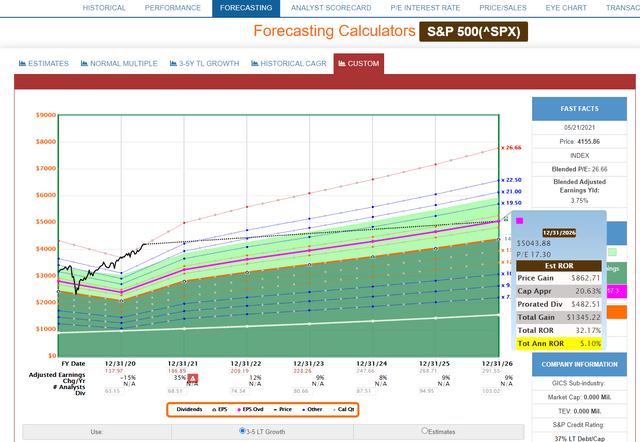 (Source: F.A.S.T Graphs, FactSet Research)
For those seeking the highest blue-chip yield, Magellan Midstream is the #1 choice.
MMP 2026 Consensus Total Return Potential
(Source: FAST Graphs, FactSet Research)
Both MPLX and MMP are MLPs, meaning they come with K-1 tax forms that some people prefer to avoid.
If that's you then Enbridge is a great alternative.
ENB 2026 Consensus Total Return Potential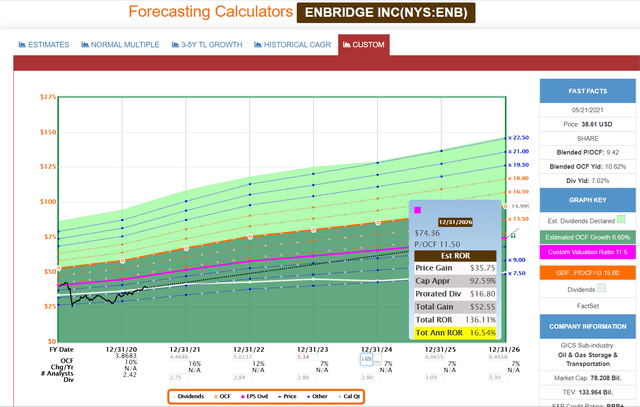 (Source: FAST Graphs, FactSet Research)
What if you're nervous about energy, and prefer to avoid the sector?
Then British American Tobacco is the best ultra-yield option.
BTI 2026 Consensus Total Return Potential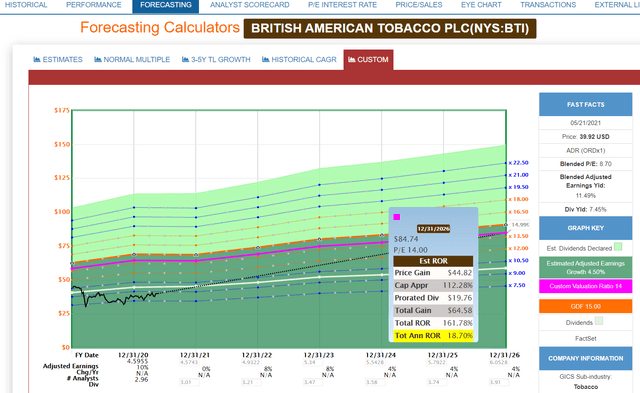 (Source: FAST Graphs, FactSet Research)
BTI literally offers Buffett-like return potential for the next five years. And management thinks it can deliver 15% to 17% CAGR long-term returns. Not just for a few years, but for decades to come.
None of these companies are fast-growing. But when you can lock in a mouthwatering safe yield, that grows steadily over time at rates that match or surpass inflation? You don't need rapid growth to retire rich.