What Investors Need to Know About Inflation
---
Inflation is on a lot of people's minds right now, and that's understandable.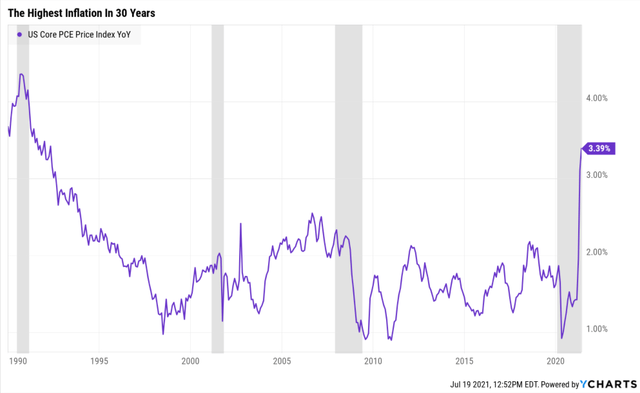 Based on core PCE, the Fed's favorite inflation metric, we're now seeing the highest inflation in 30 years.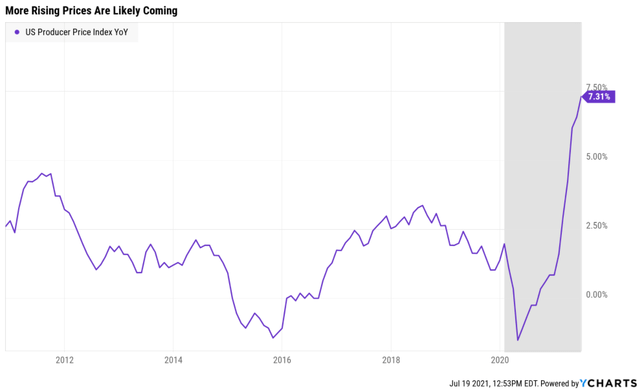 Producer prices are up even more, potentially indicating that rising prices have yet to peak as the economy reopens.
Here are the basic facts you need to know about inflation and how to protect your retirement portfolio from what's likely coming next.
Why Inflation Is At 30 Year Highs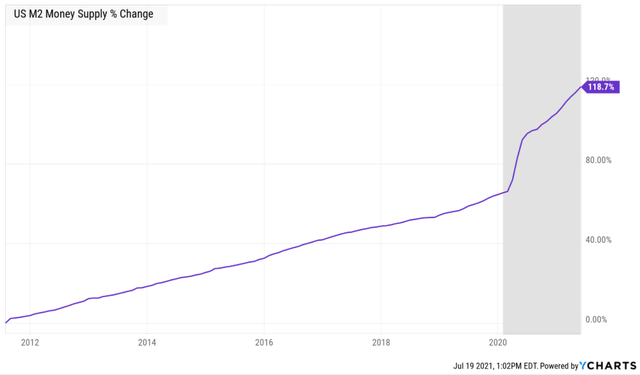 Many people think that the Fed's money printing and record stimulus during the pandemic are the main culprits for high inflation.
That's certainly one reason for rising prices, but the world is more complex than TV pundits or bumper stickers would have you believe.
The pandemic stimulus has created an estimated $2 trillion in excess savings and now that much of the US and world economies have started to reopen, there is a lot of pent-up demand.
For example, used car prices are up over 30% in the past year. Some rental cars are now fetching $700…per day.
But this brings us to the biggest reason for fast-rising inflation, global supply chain disruption.
Let's use the used car market and rental cars as examples.
Early in the pandemic car rental firms were desperate for cash ahead of what many economists feared was another Great Depression.
Fleets were sold off, and automakers shut down factories due to the pandemic. Today's cars average 5 computers each and that requires a lot of computer chips.
Automakers canceled most of their chip orders expecting auto demand would fall off a cliff as occurs in most recessions.
Instead, stimulus + people moving to the suburbs and fearing to use public transit quickly resulted in record new car demand.
Big tech companies like Apple and Samsung didn't cancel their chip orders. In fact, they doubled down and scooped up as much supply as they could get.
That proved fortuitous because locked down populations all over the world, flush with stimulus cash, were soon ordering computers, laptops, tablets, and smartphones in record amounts.
Car markers ended up at the back of the line for new chip orders. And because computer chips are so complex to make, with new factories often costing $10 or even $20 billion and taking years to build, Taiwan Semi is now estimating it will take until the end of 2022 for the global chip shortage to abate.
Carmakers stand to lose billions, and the used car market is going crazy. Today there are some used cars that are more expensive than today's model year.
Rental car companies are facing the same supply shortage, and due to leisure travel now recovering to pre-pandemic levels, car rentals often cost more than the rest of the trip combined, including plane tickets.
The labor shortage we're facing today isn't actually a labor shortage, but it is also helping to fuel some inflation.
There are 9.2 million US job openings according to the most recent JOLTs report. That's basically how many US unemployed there are.
However, there continue to be various mismatches between where potential employees are and where companies are looking to hire.
geography (many workers moved to the suburbs and out of cities)
skills and desire (33% of restaurant workers say they will never go back to that high stress/low pay industry)
timing (schools are still closed and parents can't go back to work full time until schools reopen in the fall)
pandemic concerns including the surging Delta cases among unvaccinated people
extra unemployment benefits (7% to 13% of the reason people aren't accepting jobs according to recent surveys and studies)
Wage growth is one of the key drivers of sustained inflation and some restaurants and hotels are having to offer wages of as high as $22 per hour, compared to $10 to $12 pre-pandemic.
How Bad Could Inflation Get?