3 Things Investors Need To Know About The 4th Pandemic Wave: Part 2
---
In part 1 of this series, we looked at what was causing the global 4th wave of the pandemic, and what the world's scientists were doing to minimize the risk of another catastrophic global lockdown.
Now let's take a look at the potential human and economic toll this 4th wave of the pandemic could cause, including how you can protect your retirement portfolio from potential disaster.
3. The Potential Impact On The Global Economy And Stock Market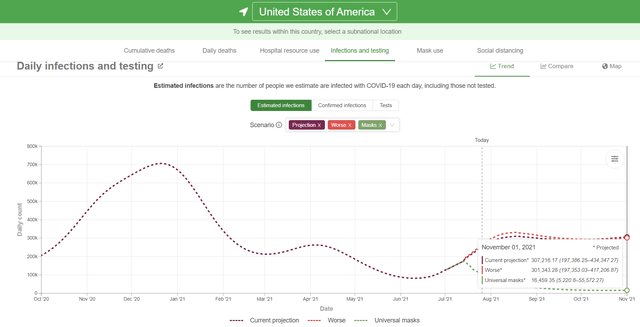 (Source: IHME)
IHME estimates that we'll see a very steady number of daily infections about half that of the January peak when US cases hit nearly 300,000.
Fortunately, 80% of the most at risk, those 65+, have been fully vaccinated.
This means the number of expected daily deaths is not likely to approach the shocking 4,000 we saw in January.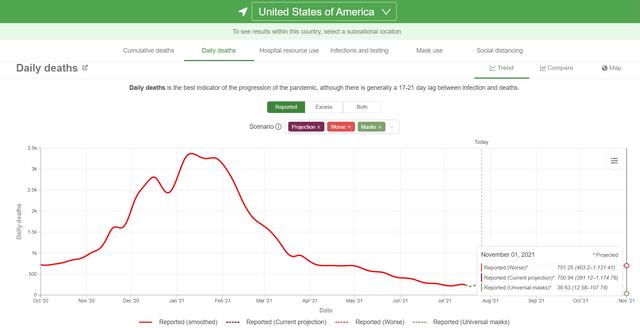 (Source: IHME)
US daily deaths are expected to remain stable at about 700 through November 1st.
For context, that's about 5X the daily death rate of seasons flu.
Moderna is working on an annual booster that combines COVID and flu, though it's not likely to be out until next year.
By November 1st, IHME estimates 667,000 total US dead, compared to 613,000 so far.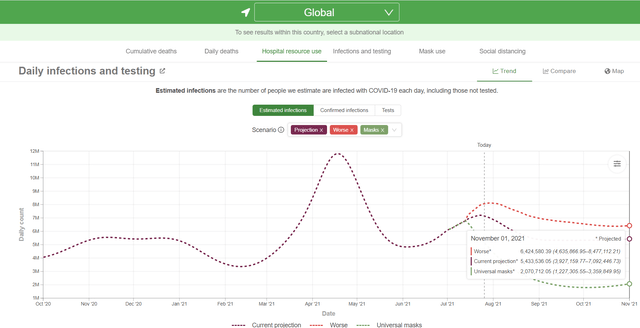 (Source: IHME)
IHME's most recent model expects about 5.4 million daily infectious through November 1st. Just like in the US this is about half the estimated rate of the worst wave of the pandemic so far.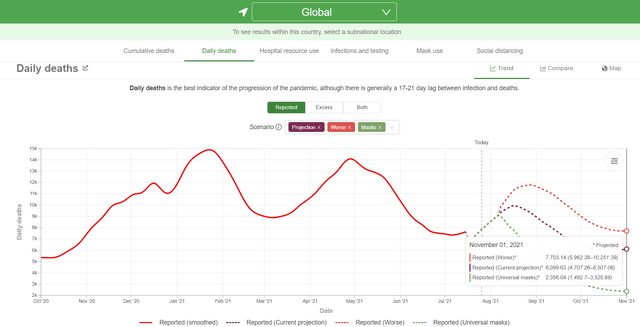 (Source: IHME)
The worst-case scenario is that daily global deaths rise back to 16,000 by the end of August.
In September and October, the number is expected to stabilize around 6,000, or an annual rate of about 2.2 million.
The total number of confirmed global dead is expected to rise from 4.16 million today to 4.93 million by November 1st.
IHME estimates that the actual number of global dead will hit 10.8 million by November 1st, due to some countries, like India, undercounting their dead by as much as 10X.
For context, the previous worst pandemic death toll was 1957's Hong Kong flu with an estimated 5.5 million dead.
The good news is that by the end of the year, an estimated 11 billion doses of vaccines will have been produced. That's enough to theoretically get the world to herd immunity.
Unfortunately, the logistical challenges of actually distributing 11 billion doses will mean that through the first half of 2022, getting the vaccines to poorer countries will be a great challenge.
In the second half of 2022, likely we'll face vaccine hesitancy which is as high as 75% in some countries.
As long as the virus is circulating somewhere it has the potential to mutate into a more infectious and or deadly and vaccine-resistant variant.
Fortunately, Pfizer and Moderna say that the mRNA technology they are using can have new boosters against new variants ready to go in 6 weeks.
That means that the chances of a new super doomsday strain that restarts this entire global nightmare all over is very small.