3 Things Investors Need to Know About The $4 Trillion Infrastructure Plan
---
For decades politicians on both sides of the aisle have hailed infrastructure as the solution to many of America's problems.
Studies show that infrastructure spending generates 13% to 17% returns on investment, boosts economic productivity, long-term growth rates, and of course, creates lots of jobs.
Well finally, after more than a decade of Bush, Obama, and Trump promising and failing to deliver game-changing infrastructure bills, we now appear poised for up to $4 trillion in infrastructure spending over the next decade.
Here are three things investors need to know about the potential $4 trillion infrastructure bonanza, and how to cash in on the gold rush.
Fact 1: What's In The Proposals
There are two infrastructure bills working their way through Congress.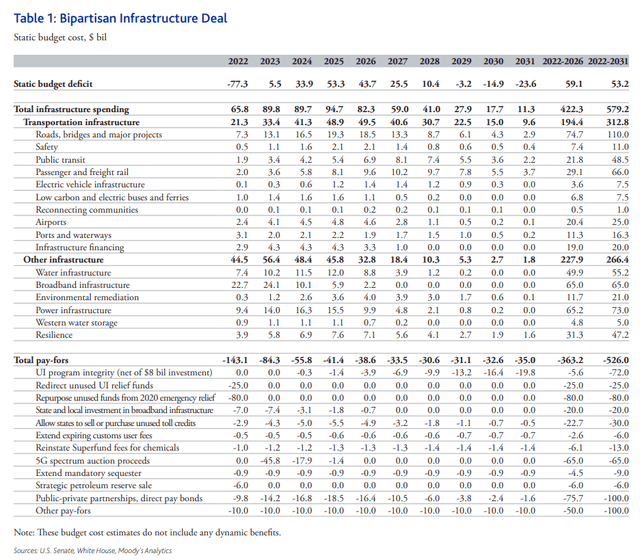 The bi-partisan bill which may be voted on this week represents $550 billion in new spending and a total of $1.2 trillion in spending over eight years.
The $150 billion per year would go into hard infrastructure, such as $65 billion for broadband, and $110 billion for roads and bridges.
The larger reconciliation bill, which House Speaker Nancy Pelosi and other Democratic leaders have said is required for them to vote yes on the bi-partisan plan, is $3.5 trillion in size, and makes the combined package about $4 trillion in total new spending, over the next decade.
It should be noted that Arizona Senator Kyrsten Sinema has said that the $3.5 trillion bill will need to be trimmed down for her to be able to vote for it.
Here's what the "human infrastructure bill" would include.
"Investments in child care paid leave and education and expanded tax credits that this week will begin providing a monthly check to most families with children…

The proposal includes some measures that go beyond what Mr. Biden has envisioned, like expanding Medicare to cover dental, vision and hearing benefits.

Democratic leaders also left it to the Senate Finance Committee to decide whether to include a measure that would lower the Medicare eligibility age to 60. That is a priority of Senator Bernie Sanders of Vermont, the Budget Committee chairman…

The plan would also create what would effectively be a tax on imports from countries with high levels of greenhouse gas emissions. That could violate Mr. Biden's pledge not to raise taxes on Americans earning less than $400,000 a year, if the tax is imposed on products such as electronics from China.

Democrats on Mr. Sanders's committee must produce a budget resolution in the coming days that includes so-called reconciliation instructions to other Senate committees. They will in turn draft legislation detailing how the $3.5 trillion would be spent, and how taxes would be raised to pay for it." – NYT
The bi-partisan bill is 2700 pages long, and the human infrastructure bill would certainly be much longer and can be expected to take several months to actually craft by Congressional staffers.
The bi-partisan bill is paid for (all but about $270 billion worth) through a variety of methods such as redirecting unused stimulus funds and taxing cryptocurrency capital gains.
The $3.5 trillion bill is expected to require significant tax increases, and the initial proposals on that call for a 28% corporate income tax rate, a return to pre-Trump tax cut tax rates for the upper tax bracket, and various other proposals targeting Americans making over $400,000.
With zero margin of error in the Senate, Democrats will need all eight conservative blue-dog Democrats to vote "yes" to pass it.
Continue Reading At StockNews.com
Photo: "Capital Sunsets on Capitol Hill" by Thomas Hawk is licensed under CC BY-NC