3 Things Investors Need to Know About The $4 Trillion Infrastructure Plan: Part 2
---
In part 1 of this series, we saw how the $4 trillion in infrastructure spending Congress is currently working on could, according to Moody's, fuel 1% stronger GDP growth through 2031 and help create 19 million jobs.
In part 2 we'll examine what this potentially stronger economic growth means for corporate earnings and the stock market.
Fact 3: How $4 Trillion In Infrastructure Could Boost Corporate Profits And The Stock Market
"In the long run…each 1% move in U.S. GDP growth should translate into roughly 3% to 4% growth in the earnings of S&P 500 companies." – Bank of America
According to Bank of America's economists (also part of the blue-chip consensus), 1% faster GDP growth translates into about 3.5% faster corporate earnings growth over time.
Today the bottom-up consensus long-term EPS growth forecast from FactSet is 8.5% CAGR. Historically, analysts tend to overestimate by 2% to 3%, and adjusting for the historical probability of recession (14%) that would be 6.4%.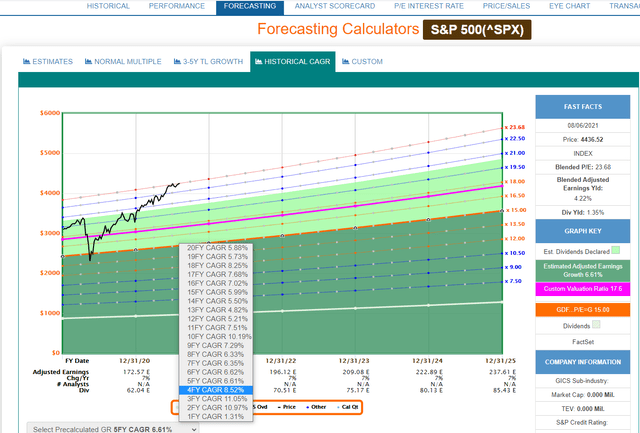 (Source: FAST Graphs, FactSet Research)
Including the pandemic and post-pandemic recovery, earnings have grown at 8.5% CAGR for the last four years, and that's what analysts expect to continue.
If the economy were growing 1% faster, as Moody's expects if the $4 trillion infrastructure bills pass, then earnings growth could potentially jump to 11.5% to 12.5% CAGR through 2031.
That could have massive implications for your portfolio.