3 Things You Need to Know About the 2nd Best Earnings Season in History
---
Last year we saw earnings crashes that had to be seen to be believed.
And this year, we're seeing the opposite, which is why the S&P 500 just smashed the record for the fastest doubling from bear market lows.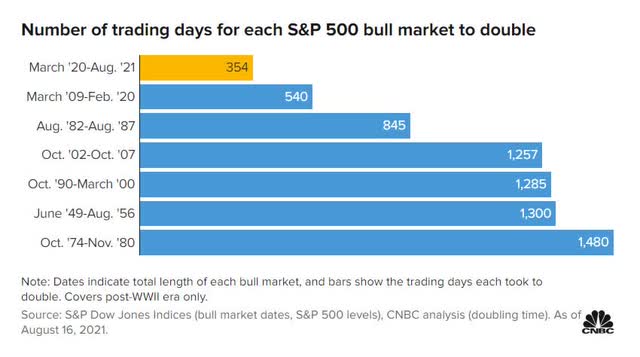 But of course, the easiest profits have already been made. This is why its important to know three things about the 2nd best earnings season in history.
Both to keep enjoying strong long-term profits in late 2021 and 2022, but also to avoid painful and costly mistakes in the coming months and years.
Fact 1: This Was A Historically Glorious Earnings Season
Q2 2021 represents the 2nd best earnings season in recorded history, at least as far as FactSet is concerned.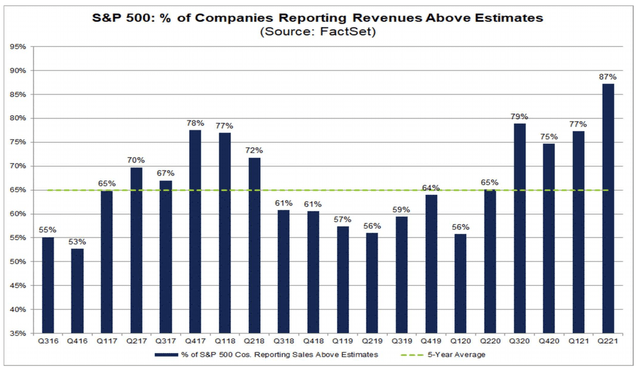 With 91% of companies reporting, 87% have beaten sales expectations, the highest ever recorded.
And those beats were despite incredibly high expectations.
The revenue surprise percentage for Q2 2021 of 4.9% is also above the trailing 1-year average (+2.8%) and the trailing 5-year average (1.2%). In fact, the second quarter will mark the highest revenue surprise percentage since FactSet began tracking this metric in 2008." – FactSet Research
Just how great was sales growth in the last year?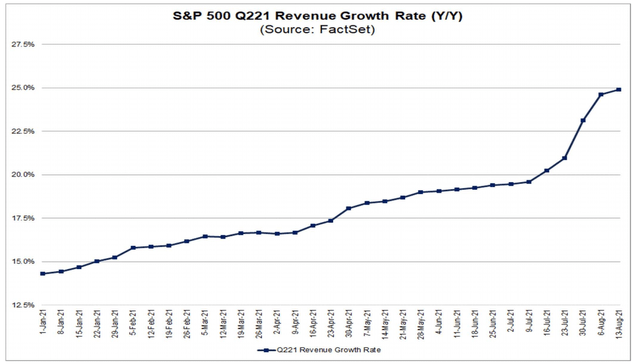 Try 24.9%.
For Q2 2021, the blended earnings growth rate for the S&P 500 is 89.3%. If 89.3% is the actual growth rate for the quarter, it will mark the highest year-over-year earnings growth rate reported by the index since Q4 2009 (109.1%)." – FactSet Research
Earnings growth has been explosive, and analysts still haven't caught up. Every week estimates are rising and every quarter companies continue to beat them by impressive amounts.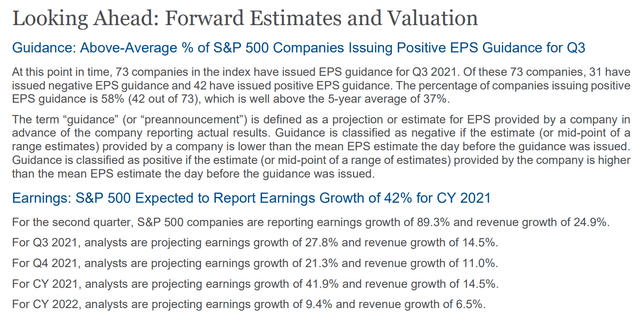 (Source: FactSet Research)
Despite the incredible growth in 2021, next year's growth, for both the top and bottom line is expected to also be above-average.
Net margins, currently at 13.0%, an all-time high, are expected to get even better.
Fact 2: Here Are The Best Sectors For 2022