4 Things You Need to Know About the Fed's Taper
---
To say the market is having a good year would be an understatement.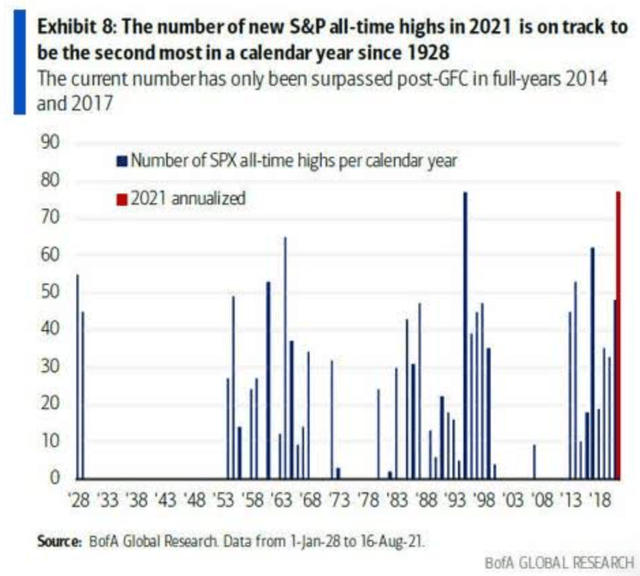 As I write this on August 30th, the S&P 500 is poised for its 52nd record high of the year, putting it on track to possibly overtake 1995's all-time record of 77 record highs that year.
The financial media is giving credit to Fed Chairman Jerome Powell's very well received Jackson Hole speech in which he discussed the Fed's plans for the taper.
Here are the three things you need to know about the Fed's taper plans and how you can not only protect your portfolio in the coming 18 months but keep profiting from one of the greatest bull markets in history.
Fact 1: The Taper Is Likely To Begin This Year
The main reason the market appears to be so bullish on Powell's speech is that he didn't give a firm timetable for the start of the taper.
It would continue to be my view that when we get to the September meeting, we would be well served to announce a plan for adjusting purchases and begin to execute that plan in October or shortly thereafter." – Robert Kaplan, CNBC

"We did say that we would allow inflation to run above target for some time, but not this much above target. So for that reason, I think we want to get going on tapering and get it finished by the end of the first quarter next year." – Jim Bullard, CNBC

"When you look at the job gains we saw last month, the month before, you look at the level of inflation right now, I think it would suggest that the level of accommodation we're providing right now is probably not needed in this scenario. So I would be ready to talk about taper sooner rather than later." – Esther George, CNBC
Numerous Fed presidents have been saying for months that it's time to start winding down the Fed's $120 billion in monthly bond-buying.
None of what Powell said was actually surprising, because the Fed has been saying since the start of QE infinity that as soon as the economy has sufficiently recovered, the Fed would start easing its accommodation.
That's because, like Dallas Fed President Robert Kaplan explained on Odd Lots, as the economy recovers providing the same amount of stimulus actually increases accommodation, and risks permanently higher inflation.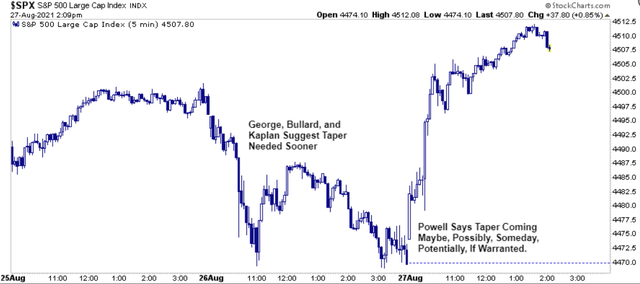 While it's impossible to know exactly what causes the market's daily gyrations, it seems a good bet that for now, the market is obsessed with the Fed's taper plans.
Why is that? Because the market is still haunted by the experience of the 2013 taper tantrum.
Fact 2: A Taper Tantrum Is Not Likely